Kolaj Institute operates a number of programs designed to support the growth and development of artists and to develop projects that bring together community, investigate critical issues, and raise collage's standing in the art world.
Often in partnership with other organizations, programs may take place in-person or virtually. 
Residencies
Residencies are focused on artmaking, are project-driven, and provide an artist or writer dedicated time to complete bodies of work for exhibitions or publications that are then supported by Kolaj Institute.
Workshops
Workshops are focused on research and the development of critical ideas and skills. Often the participants create texts which are disseminated through Kolaj Magazine and Kolaj Institute's publications.
Artist Labs
Artist Labs are an intensive series of workshops and discussions designed to develop proposals for multifaceted contemporary art projects.
Current & Upcoming Programs
Collage Artist Residency Scotland-Fall 2023
An in-person residency at MERZ Gallery in Sanquhar, Scotland centered on collage artists who seek to engage with place in their practice in community with other artists. Residents will make artwork for exhibition and a collaborative work. 
When artists approach a place as an archive, they draw out a deeper, more complex understanding of that place that enriches our understanding of our communities, helps us be better citizens, and empowers us to take better care of our neighbors. Collage Artist Residency: Scotland is a week-long artist residency designed for artists working in collage who seek to engage with place in their practice in community with other artists. Using the rural community of Sanquhar, Scotland as a laboratory, artists will spend a week making artwork; learning about the place, its people, and its history; and discussing how art can capture, share, reflect, comment, and otherwise engage with a sense of place. The goal of the residency is to develop an individual methodology for responding to place in one's art practice and to make a work of art about Sanquhar that speaks to and about the people and land. Our hope is that artists will return to their home communities with fresh eyes and be prepared to see their communities in a unique way.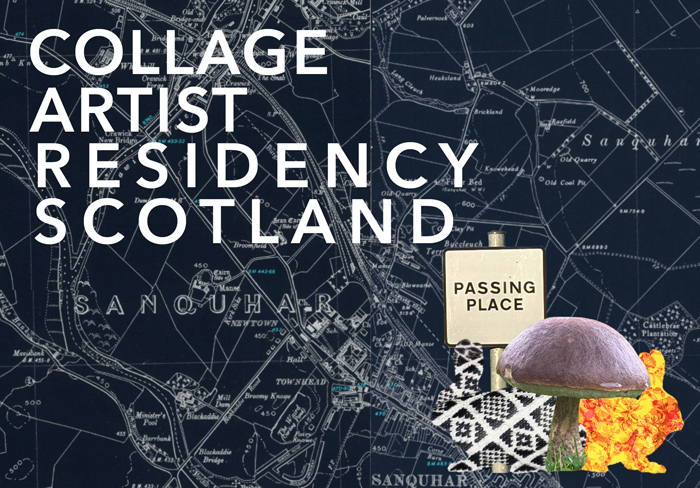 Deadline to Apply: Sunday, 18 June 2023. Submissions will be reviewed on a rolling basis until space is filled. Artists are encouraged to apply well before the deadline. Response may not be sent out until two weeks after the deadline.
Curating Collage Workshop- January 2023
Curating is a vital part of art's function: a curator creates a bridge between artwork and audience. For artists, this process can be confusing and mysterious. The goal of the Curating Collage Workshop is to equip artists with the tools to curate their own work, to work with curators, and build exhibitions that connect with diverse audiences.
The Curating Collage Workshop is a four-week program designed to train artists as curators. In four virtual meetings over four weeks and through ongoing, online discussion, we will explore the fundamentals of curating, how to create critical context for collage, and various strategies for presenting collage to an audience. Topics will include art writing; gallery and museum issues; documenting artist practice; and working with art professionals.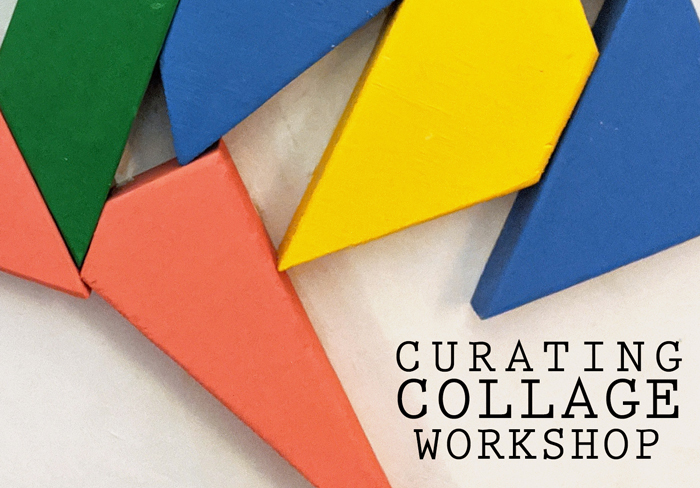 The Call to Artists is closed.
Politics in Collage Residency
November 2022
During the Politics in Collage residency, artists will discuss the history of political collage and important political collage artists, explore how to curate and exhibit this crucial art form, and, most importantly, challenge themselves to push their own artistic practice further in the creation of political collage. During the month-long residency, artists will hear from a variety of guest speakers who specialize in different aspects of political collage. Through ongoing online discussions and regular collage exercises in between meetings, artists will learn how to articulate complex political subjects in their work and explore how to inspire engagement with difficult socio-political topics through collage. Artists in the residency will conceptualize and begin work on a piece exploring a political or social subject of their choosing. The completed work and texts from the residency will result in a book published by Kolaj Institute and an exhibition.
The Call to Artists is closed.
New Orleans Collage Artist Lab: City as Archive
November 2022
New Orleans Collage Artist Lab: City as Archive is a five-day intensive of workshops, discussions, and collage making designed to foster the integration of history and place into a collage artist's practice. The Lab takes as its premise that the urban landscape can be viewed as a sort of archive with which artists can draw from, not unlike a material archive maintained by an institution. Approaching the urban landscape in this way is fertile terrain for collage artists who seek to incorporate a sense of place into their practice. The goal of the Lab is to equip artists with tools and strategies for picking up the unfinished work of history and speak to contemporary civic discourse around social, economic, and environmental issues. After the Lab, artists will be invited to submit collages and a statement for inclusion in a book of collage about New Orleans that will be published by Kolaj Institute in 2023.
Collage & Illustration: The Awakening
October 2022
During this project-driven residency, artists will learn about collage as illustration and collectively produce a series of collages that illustrate Kate Chopin's 1899 novel, The Awakening. As a group, artists will analyze the story, discuss themes, uncover symbols, ask questions, and visually interpret the text for a 21st century audience. The Awakening touches on 19th century feminist, identity, and societal themes that are still relevant today, such as; What does it mean to be a woman? What are the expectations that society puts upon women? Are we bound to what we are born into? What does it mean to transform? What does patriarchy look like in 2022? After the residency, Kolaj institute will publish The Awakening using the illustrations made during the residency as a way of bringing this important, historical book to 21st Century readers.
We are currently developing an archive of past residencies, workshops, and artist labs. Check back soon.