Kolaj Institute is partnering with A' the Airts and the Nithsdale Hotel in Sanquhar, Scotland to offer week-long residencies for collage artists in September 2023. Residencies are organized around a theme which results in a project that brings focus to the group's engagement with one another. Submissions are reviewed on a rolling basis until space is filled. Artists are encouraged to apply well before deadlines.
ABOUT COLLAGE ARTIST RESIDENCIES
Collage Artist Residency: Scotland is a week-long artist residency designed for artists working in collage who seek to make art in community with other artists. The residency will unfold over the course of a week. Each day the group will meet in the morning for a presentation or workshop. Faculty will make presentations about place in art and strategies for incorporating place into one's practice. Designed for collage artists, professional development sessions focus on artist practice: topics include Collage Theory; Sourcing Materials, Copyright, Appropriation; Developing Materials; Collaboration; and Collage in Presentation. Additional presentations speak to themes and projects specific to that particular residency.
In the afternoons, artists may choose to make art or take up an afternoon activity such as a walk to the River Nith and castle or a visit to the Tolbooth Museum or Saint Bride's church or an afternoon trip via rail to Dumfries or Glasgow. Artists will have the opportunity to work one-on-one with faculty. In the evenings, we will convene at the Nithsdale Pub to informally share the experience of our days. Our hope is that artists will return to their home communities with fresh eyes and be prepared to see their art practice and home communities in a unique way.
Collage Artist Residencies: Scotland have taken place in September and April since  Fall 2022. Over 60 artists have participated and made artwork that has been exhibited at the Knoxville Museum of Art and as part of Kolaj Fest New Orleans and has been published in Kolaj Institute books and Kolaj Magazine.   
WHO IS THIS FOR?
Collage Artist Residency: Scotland is centered on collage artists who want to develop their artist practice. Residencies are intended for self-motivated artists, regardless of the stage in their career, who want to develop their practice by exploring a topic or working method and collaborating with others to produce a final product and who want to develop a practice of working with place, historic sites or history associations, folklore or other themes to create and present art that embeds itself in non-traditional spaces and speaks to a general community about contemporary issues.
Residencies are open to any artist over the age of 21 from anywhere in the world. We look for artists who have a developed sense of practice (even if it is an emerging one) and those who have a strong connection to a community. People of color, indigenous people, and members of queer communities are encouraged to apply.
Community Events in Sanquhar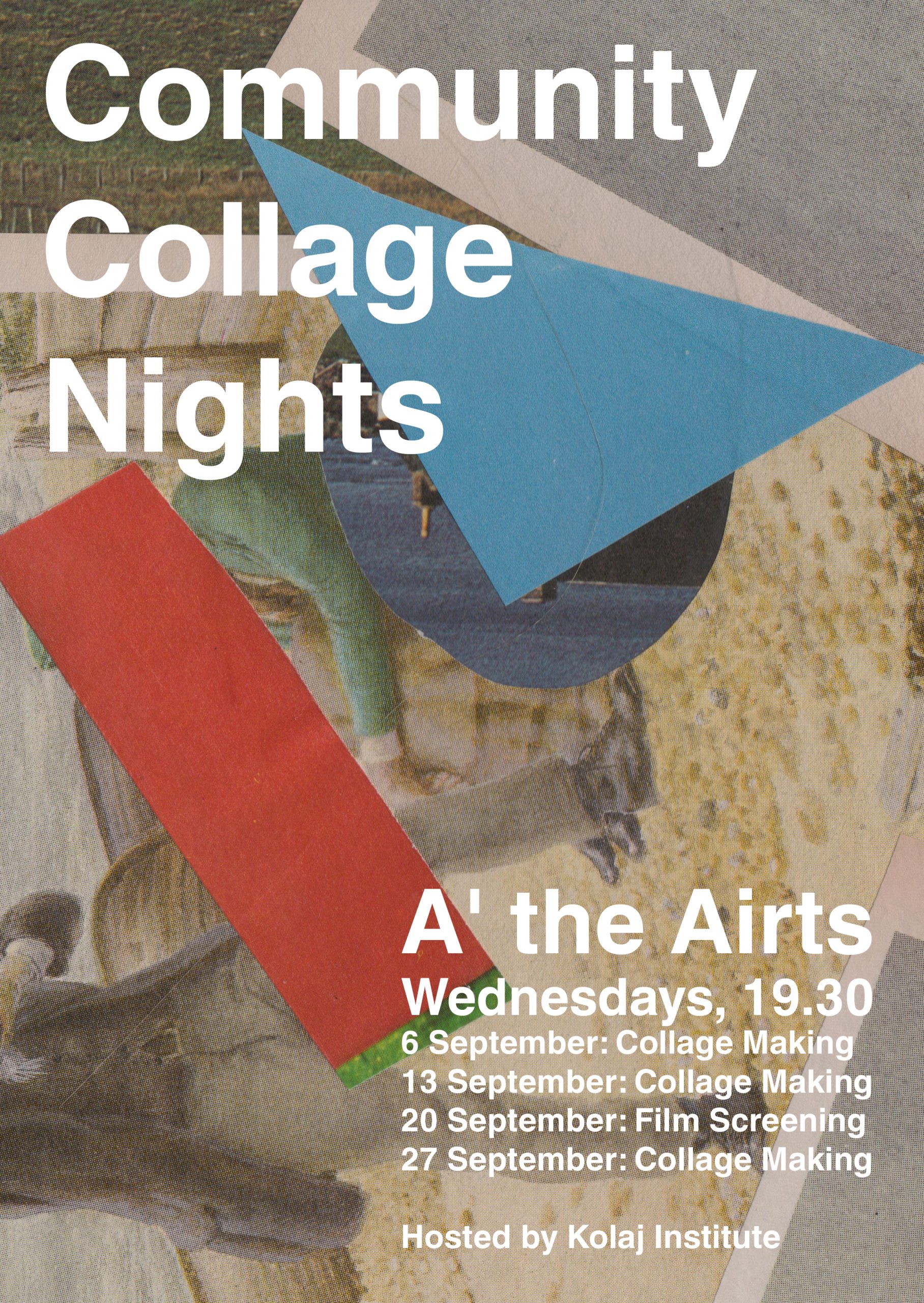 Community Collage Nights at A' the Airts
Wednesdays in September, 19.30
In conjunction with Kolaj Institute, A' the Airts will host a series of Collage Community Nights that are free and open to everyone.
People of all ages are welcome to come, meet the artists in residence, make collage, and discover this remarkable medium. Kolaj Institute is bringing groups of international collage artists to Sanquhar to explore the region and to make art in response to what they discover. The artwork made about Sanquhar will travel to New Orleans, Louisiana where it will be exhibited and included in an upcoming book about Sanquhar.
On 6 September, Kolaj Institute Director will give a slideshow about Collage & Folklore and speak about the exhibition that took place in Spring 2023 at the Knoxville Museum of Art in Tennessee, USA. That exhibition featured artwork made in response to folklore from the Upper Nithsdale.
On 20 September, Collage on Screen is an eclectic evening of moving images, from Kolaj Institute's Collage in Motion project, which explores collage and the moving image, a broad, loosely defined category that includes animations, film cut-ups, collage film, stop-motion, documentaries about collage artists, and other forms of media in which collage—as medium or genre—is present. The program presents twenty-seven films by over thirty artists from ten countries. Artists are working across disciplines and using painting, puppetry, dance, sound collage, comics, clay and other forms of craft to make films. Some artists use traditional methods of stop motion animation and collage film to make music videos, documentary films, and storytelling works while others are adapting the terrain of experimental video and video installation.
On 13 and 27 September, join us for an evening of collage making with a cohort of international collage artists. Never made a collage before? No problem! Terrified of scissors? No problem! Not sure what glue to use? No problem! This accessible medium is a fun way to tap into your creativity regardless of experience, skill, or age level. You may surprise yourself.
Community Collage Nights are free & open to everyone.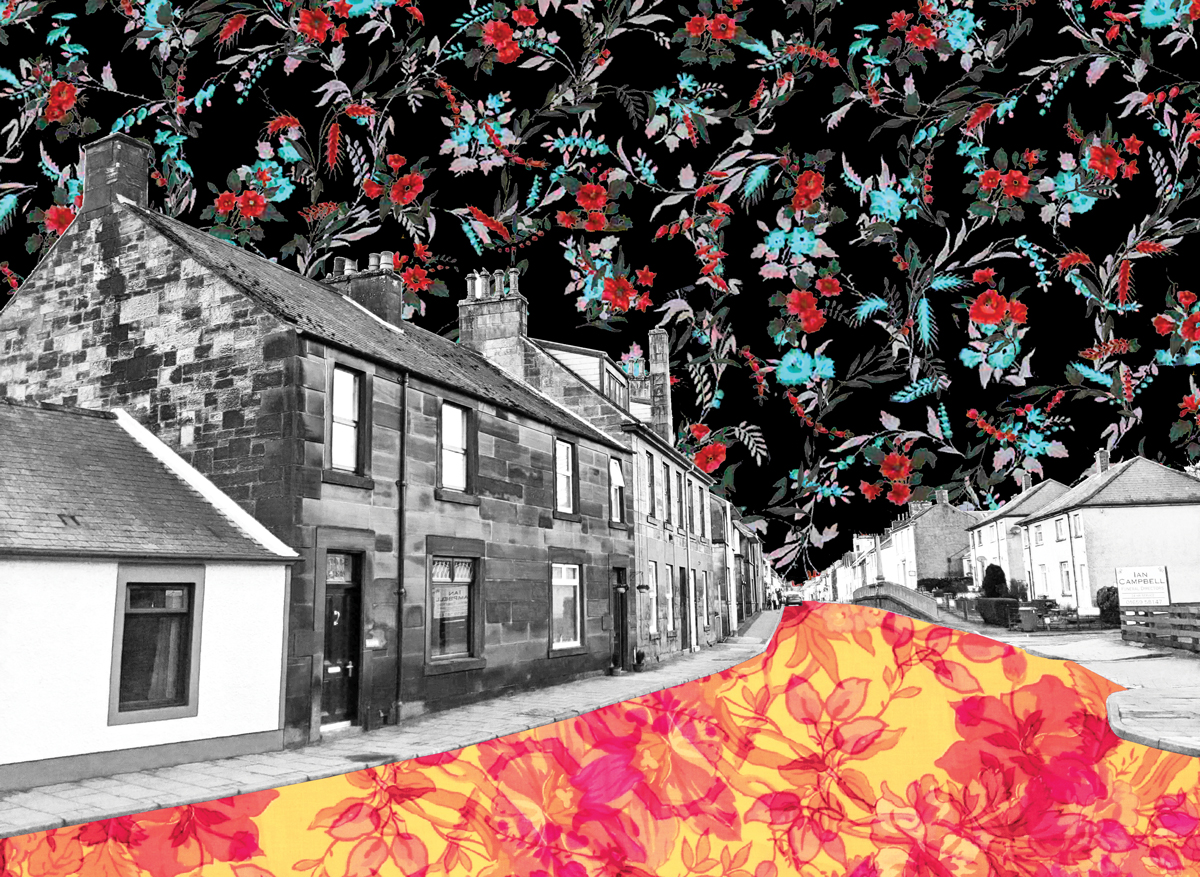 September 2023
Folklore, Place, & Collage
Sunday, 10 September – Saturday, 16 September 2023
Sunday, 17 September – Saturday, 23 September 2023
Sunday, 24 September – Saturday, 30 September 2023
The Fall residencies focus on place and folklore.
When artists approach a place as an archive, they draw out a deeper, more complex understanding of that place that enriches our understanding of our communities, helps us be better citizens, and empowers us to take better care of our neighbors. Using the rural community of Sanquhar, Scotland as a laboratory, artists will spend a week making artwork; learning about the place, its people, and its history; and discussing how art can capture, share, reflect, comment, and otherwise engage with a sense of place. The goal of the residency is to develop an individual methodology for responding to place in one's art practice and to make a work of art about Sanquhar that speaks to and about the people and land.
Folklore is the imagination of the past as it is understood in the present. More importantly, folklore is how a community expresses itself to one another. In order for folklore to be transmitted over time, it must be nurtured. During a time when folklore is devalued by economic systems and dismissed by political power, artists play an important role in calling attention to and celebrating these important elements that shape community identity and reinforce communal ties. In times of crisis and collective trauma, these stories can be key to a community's sense of resilience and ultimate survival. By engaging with these stories, artists can play a role in activating folklore for a community and facilitating their transmission. On view at A' the Airts during the month of September will be an exhibition of art inspired by folklore made by artists who were in residence at the Knoxville Museum of Art in March 2023. (Read more about Kolaj Institute's Folklore & Collage Project.)
During the residencies, artists will be presented with a number of projects in which Kolaj Institute is currently engaged and be invited to make artwork that contributes to those projects. These include a book and exhibition of collage about Sanquhar that demonstrates how artists approach and make art about place; and a book of folklore that demonstrates the role artists can play in its discovery, documentation, and transmission. Artists will make one artwork during the residency which demonstrates their approach to the project. After the Residency, artists will be invited to submit 3-5 additional collages and a statement. Some of the artwork submitted will be exhibited at Kolaj Fest New Orleans in 2024 which artists will be invited to attend and speak about.
The Submission Period has ended. Join our email list to receive updates about future Calls to Artists.  
Residency Logistics, Housing, & Fees
RESIDENCY LOGISTICS
Artists are responsible for their travel to and from Sanquhar.
Participating artists will meet via Zoom three weeks prior to their arrival in Sanquhar. During that meeting we will review a group Google Docs and establish a communication channel on WhatsApp to facilitate networking prior to arrival. Technical support is available as needed.
Artists should plan to arrive in Sanquhar prior to 5PM and settle into their accommodations. The residency begins on Sunday at 6PM where we will gather at the Nithsdale Hotel for an orientation that is followed by a walk around the village. Each day, starting on Monday, we will meet at A' The Airts from 10AM to Noon for presentations and workshops. That meeting will be followed by lunch, which is included in the residency fee. After lunch, artists are free to explore, take side trips, or work in the collage making space. An informal, non-obligatory meet-up will take place the evening at the Nithsdale Pub.
On Wednesday at 7:30PM, artists will be invited to participate in a Community Collage Night at A' The Airts where local citizens will be invited to make collage or to a screening of Collage in Motion. In the afternoon on Friday, artists will present their work at A' The Airts in a program that is open to the public. The residency ends at 4PM on Friday. Departure is Saturday morning. Check out is 11:30AM.
Artists staying at the Nithsdale Hotel will have 24-hour access to our collage making space where essential supplies such as cutting mats and tools, glues, materials, and substrates are available. Any special materials that an artist may want or need should be sent by the artist prior to arrival.
HOUSING
Residents are housed in the Nithsdale Hotel, the cost of which is included in the fee. Located in the heart of Sanquhar, on High Street across from the iconic Tolbooth and Town Hall, the Nithsdale Hotel is a historic, family-run inn and pub. The building itself, one of the oldest in town, dates back to 1712. Each of the modern, recently renovated rooms comes with their own bathroom and television and the entire hotel has wi-fi. A full-service restaurant is on-site. The Nithsdale Hotel is "The Official Hotel of The Schwitters' Army."
If alternative housing is desired, artists will be given a list of housing options with which they can make their own arrangements. Housing costs in the village range from £60-£255 per night (approx. $75-$325 US), with a number of options in the £60-£100 (approx. $75-$130 US) range. Off-site housing is designed for those artists with unique needs. For those residents who stay off-site, access to the collage making space will be limited to 8AM to 10PM.
FEES
The cost of the residency for artists staying on-site, at the Nithsdale Hotel, is $1175 US. If the artist is traveling with a partner or companion, there is an additional fee of $400 US.
The residency fee includes one meal per day, 24-hour access to workspace, and general collage making tools and supplies. Artists are responsible for their own travel to and from Sanquhar, additional artist materials, and additional meals. Artists who are staying in the Nithsdale Hotel also receive a complimentary continental breakfast.
If the artist would like to arrange for their own housing in the village, they will receive a housing discount of $400 US, with no additional fee if the artist is traveling with a partner or companion. Note: Artists staying off-site will be responsible for their own breakfast and their access to the collage making space will be limited to 8AM to 10PM.
Limited financial aid is available to offset the residency fee. Financial aid is not available to offset the expense of travel. Organizers will support artists as they seek additional funding as needed.
Application Process
The submission process asks applicants for:
• Contact information
• Artist or Writer Bio (50-250 words)
• Statement of Artist or Writer Practice (50-300 words)
• 5-7 images of artwork or samples of writing
• Statement of expectations
• Asks questions about your work and needs
Applications are reviewed on a rolling basis and invitations are sent to applicants until space is filled.
QUESTIONS
If you have questions, send an email.
The Submission Period has ended. Join our email list to receive updates about future Calls to Artists.  
Artist Commitment
Upon invitation, artists will be assigned a session, based on the week preference indicated in their submission, based on availability. Artists may arrive anytime after 3PM on the Sunday of their week and should plan on departing no later than 11:30AM on the Saturday of their week.
Artists are expected to attend all scheduled sessions and be active participants in the community. We may use online tools such as Zoom, WhatsApp, and Google Docs to communicate and share information prior to, during, and after the Residency. Technical support is available as needed.
This Residency requires artists to be in Sanquhar, Scotland in the evening on Sunday of their residency through the afternoon of the last day (Saturday) of their residency. Artists are responsible for their travel to and from Sanquhar. Accommodations and two meals per day are included as part of the Residency fee. (For artists not staying at The Nithsdale Hotel, only one meal per day is included in the fee.)
After the residency, artists will be invited to submit 3-5 additional collages and a statement for inclusion publishing and exhibition projects by Kolaj Institute in 2024. By participation in the residency, artists grant Kolaj Institute, Kolaj Magazine, A' The Airts, and Maison Kasini permission to publish the text and images in book form and in the promotion of the project and book. Any original work made during the residency remains the property of the individual artists with all rights retained.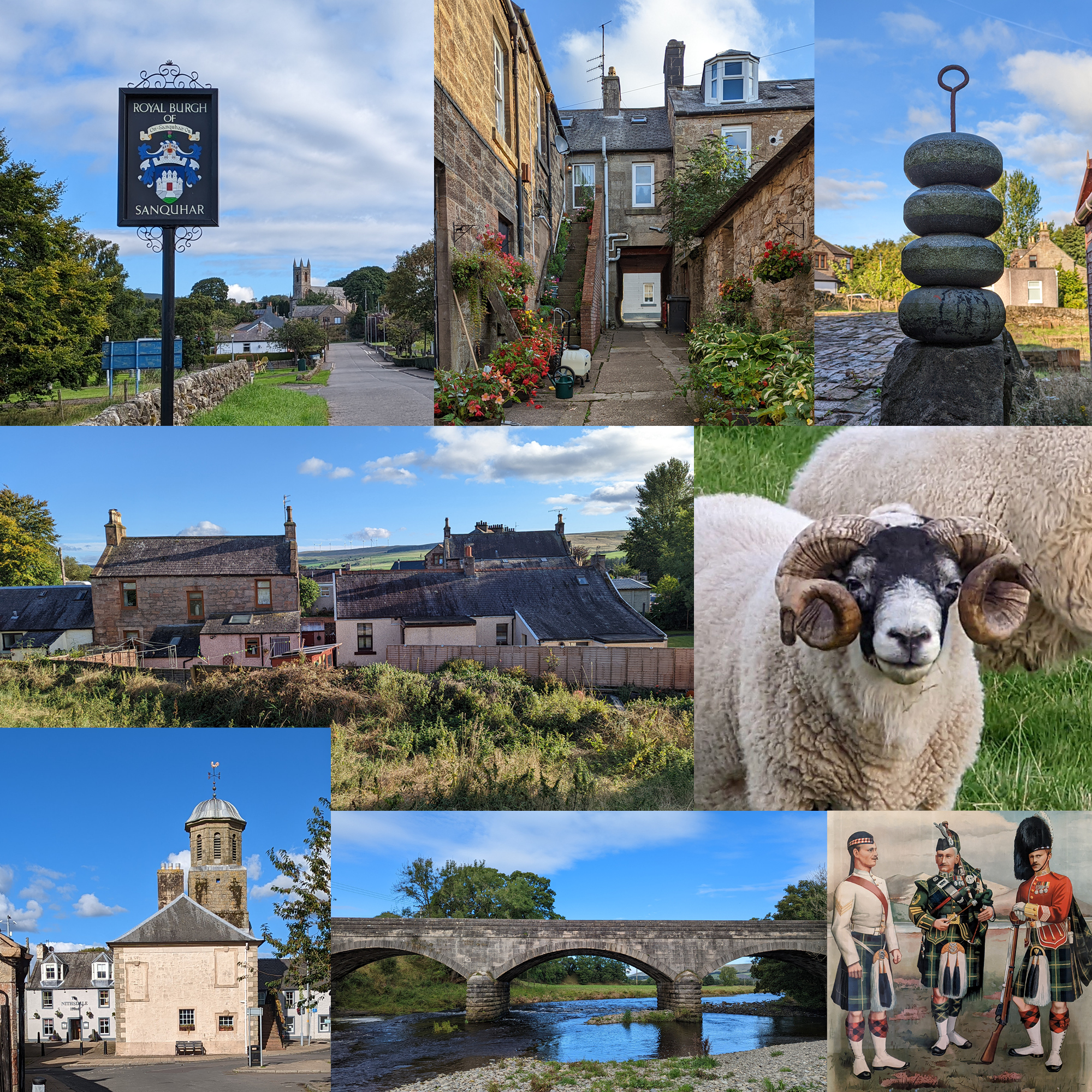 Sanquhar is a rural Scottish community with a rich agricultural and manufacturing heritage. Located on the River Nith, the area has been an important crossroads going back to Neolithic times and is the site of several prehistoric British forts and a Roman outpost. A 15th-century castle ruin overlooks the town. Mary, Queen of Scots came to Sanquhar in May 1568 after her defeat at the battle of Langside. In the 17th century, Sanquhar was the site of unrest during the Covenanting period when Scottish Presbyterians fought to maintain the Church of Scotland. Agriculture, coal mining, and wool production and related industries such as knitting and carpet making flourished in the 18th century. The town hosts the world's oldest working post office (established in 1712) and the world's oldest curling society (formed in 1774). The Church of St. Bride's sanctuary was dedicated to a lost, then found World War I soldier. The village of Crawick on the edge of town had once been known as a haven for witches. The Tolbooth Museum was designed by the influential 18th century Scottish architect William Adam.
Sites of Interest: Tolbooth Museum, Sanquhar Castle, Crawick Multiverse, Old Town Hall, River Nith, Saint Bride's Church, Sanquhar Declarations Monument, and A' the Airts  (home to Sanquhar Knitting Patterns).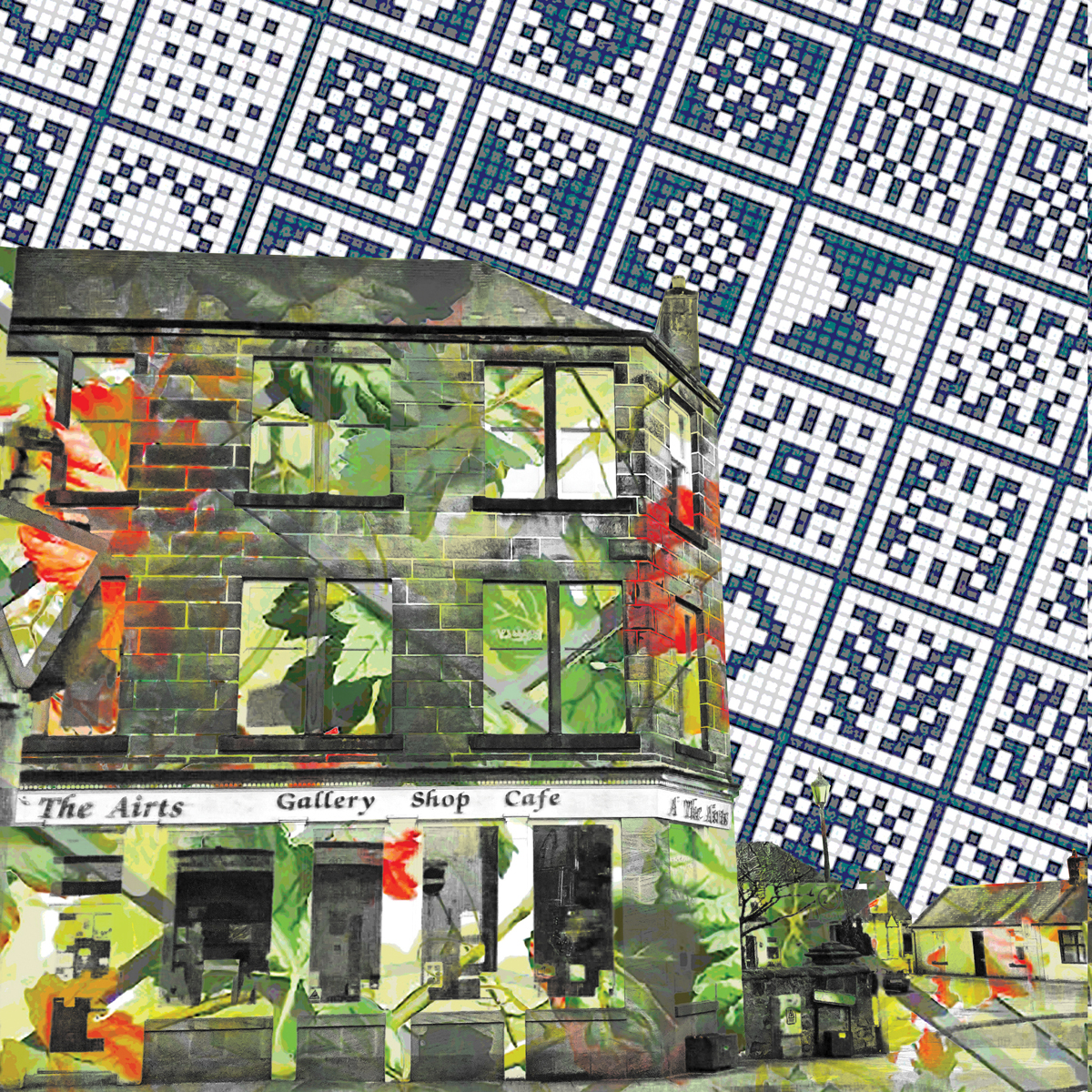 About A' The Airts
A' The Airts in the Royal Burgh of Sanquhar is a Community Arts and Crafts center. The organization contributes to the social, economic and cultural well-being of the communities of Upper Nithsdale by actively encouraging participation in a range of arts, crafts and related activities. In 2000, a group of residents had the vision of turning a run-down building in Sanquhar's High Street into an arts, crafts and cultural center, to help with the regeneration of the area. Local consultation showed considerable support for the idea. After years of hard work and fundraising, including support from the Big Lottery and the Scottish Government, A' The Airts opened its doors in November 2010. A' The Airts offers a varied programme of events including music, drama and poetry. There is a café and gift shop, as well as a theater and craft rooms. Since 2014, A' The Airts is also home to Sanquhar Pattern Designs, whose goal is to ultimately resurrect a dying cottage industry centered around knitted textiles. 
Past Residencies in Scotland
Collage Artist Residency: Scotland in April 2023
Using the rural community of Sanquhar, Scotland as a laboratory, thirty-one international artists spent a week in April 2023 making artwork; learning about the place, its people, and its history; and discussing how art can capture, share, reflect, comment, and otherwise engage with a sense of place. Residents made artwork for the exhibition, "Passing Place", that was shown at MERZ Gallery in Sanquhar in April and May 2023 and at the Kolaj Institute Studio at The School Art Studios during Kolaj Fest New Orleans 2023, 1-30 June.
Collage Artist Residency: Scotland in September 2022
Held over three weeks in September 2022, Collage Artist Residency: Scotland-September 2022 was an in-person residency at MERZ Gallery in Sanquhar, Scotland centered on collage artists who wanted to incorporate history and folklore into their artist practice. Residents made artwork for an exhibition, "Mythical Landscape: Secrets of the Vale", at the Knoxville Museum of Art, 17 March-7 May 2023, and the book, Folklore of the Upper Nithsdale, published by Kolaj Institute in 2023.