Kolaj Fest New Orleans is a multi-day festival & symposium about contemporary collage and its role in art, culture, and society, 12-16 June 2024.
Kolaj Fest New Orleans is 12-16 June 2024
Kolaj Fest will return to New Orleans on 12-16 June 2024 for a coming together of collage artists and art professionals; a multi-day festival and symposium about contemporary collage and its role in art, culture, and society; where the focus is how we celebrate and elevate the status of collage. Presenters will lead panel discussions and explore key curatorial issues. Artists will exhibit artwork, and create special activities and demonstrations. We will meet, network, share community, camaraderie, and fellowship. We will leave armed with new ideas for our artmaking, writing, and curatorial projects, but more importantly, we will leave Kolaj Fest New Orleans prepared to champion this artform in the year to come.
Registration
Registration will open in late 2023. Join our email list to receive updates and notice of early registration. 
Where to Stay
Kolaj Fest New Orleans is a decentralized event that extends across New Orleans. There is no official host hotel. New Orleans is rich with housing options, from traditional hotels to B&Bs at a range of price points. We recommend booking in the Central Business District/Warehouse District, French Quarter, or in the Marigny/Bywater, all places well served by public transportation and ride share services. New Orleans & Co., the city's visitor and convention bureau, offers a free hotel and B&B booking service.
  Help Make Kolaj Fest Happen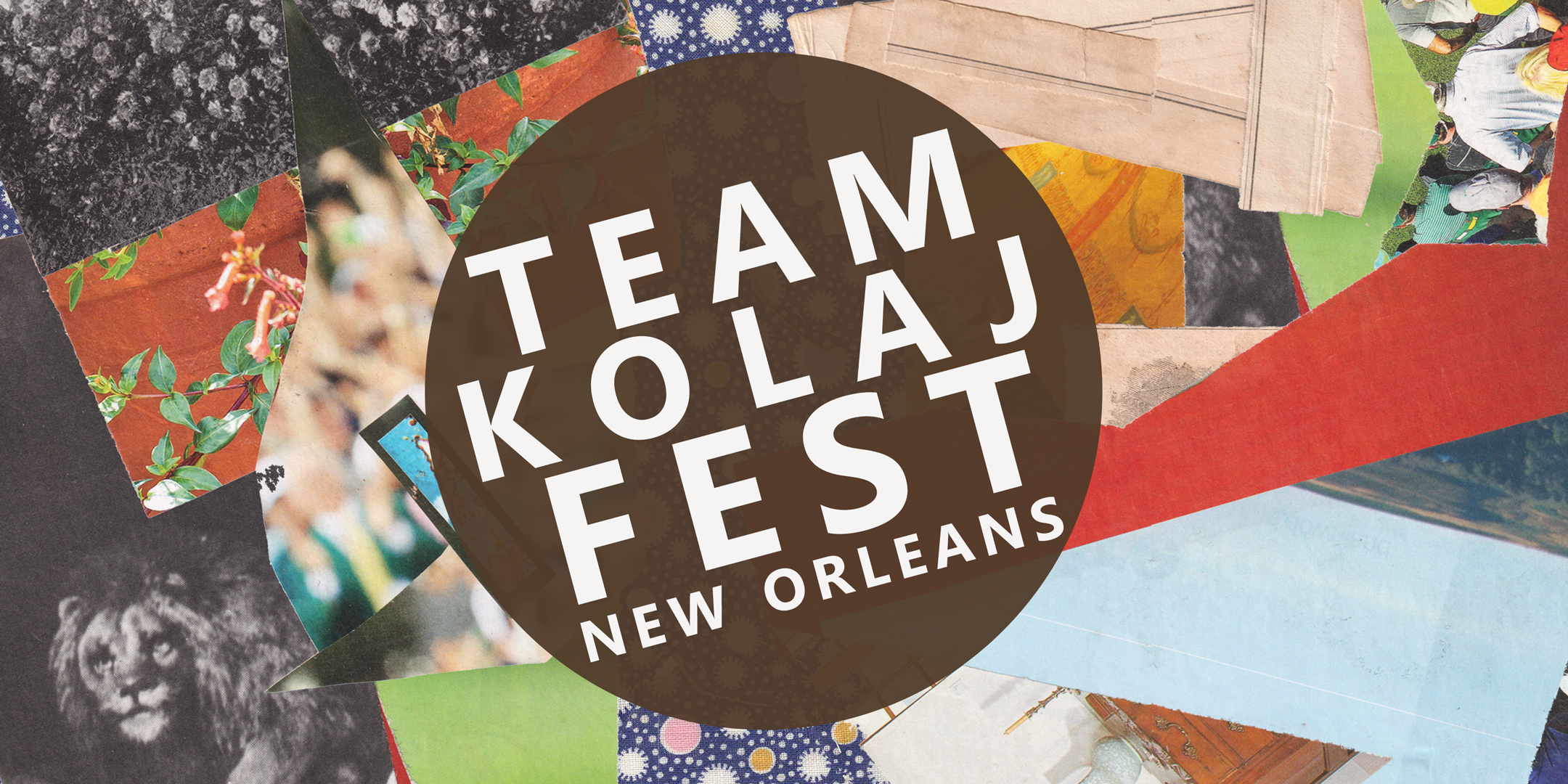 Join Team Kolaj Fest
Do you want to have a hand in making Kolaj Fest New Orleans happen? We are seeking individuals who want to join Team Kolaj Fest. This group of volunteers will learn how the event is produced, the values that we aspire to operate with, and play a leadership role in developing programs, panels, workshops, and activities. The group will meet virtually, once a month between July 2023 and March 2024 and perhaps more frequently closer to the event. We are seeking people who have attended Kolaj Fest New Orleans in the past or participated in other Kolaj residencies, workshops, or events; and plan to return to New Orleans in 2024. To express your interest, please complete THIS FORM.
Please respond before 20 July 2023. Our first meeting will be 30 July 2023.
What Happens at Kolaj Fest New Orleans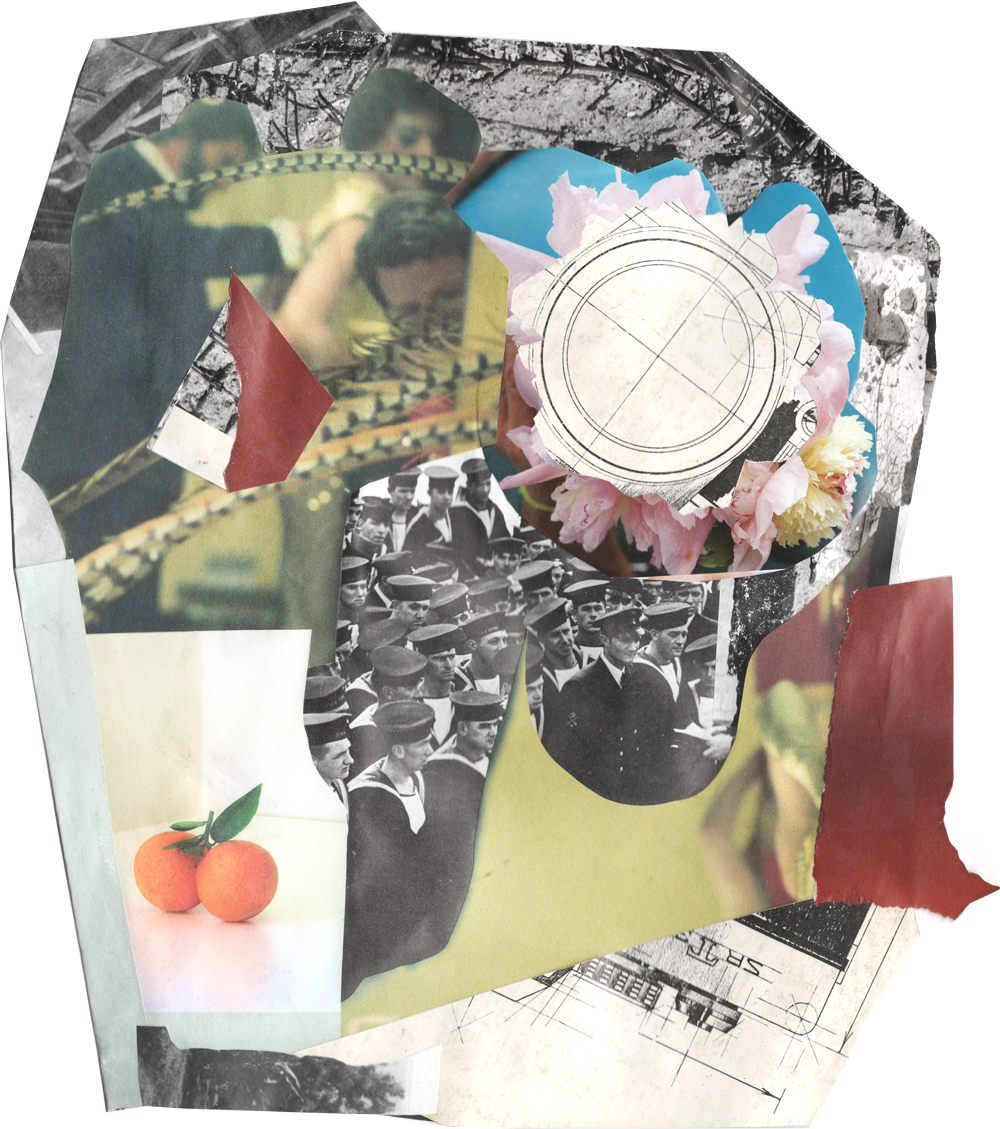 AT KOLAJ FEST
Daily Collage Congress
At each Daily Collage Congress, we will review the day's agenda. Speakers will share ideas about the state of collage. And we will hear updates about special projects taking place during the festival.
AT KOLAJ FEST
Symposium
The program at Kolaj Fest is a unique experience. We have multiple goals and are serving multiple audiences: We aim to breakdown hierarchy and foster dialogue among art professionals working in a variety of capacities. We aim to build bridges between the collage community and the larger art world; between the art world and the general public. Our hope is that participants will have fun, network, play, and socialize while engaging in deep, real talk about issues that are important to them. We aim that people will leave Kolaj Fest New Orleans connected to a community, armed with ideas for their art, the presentation of collage, their writing and curatorial work, or simply a deeper appreciation and understanding of collage and the people who make it.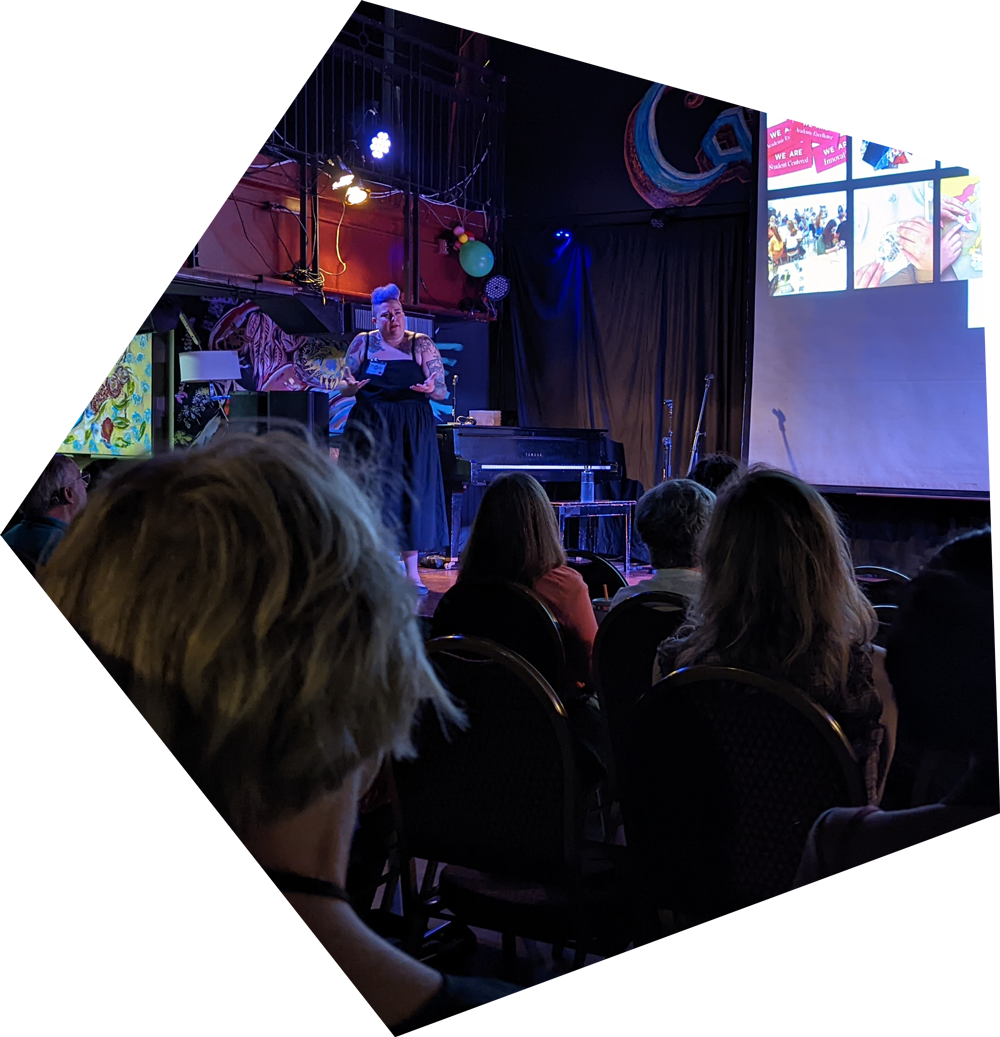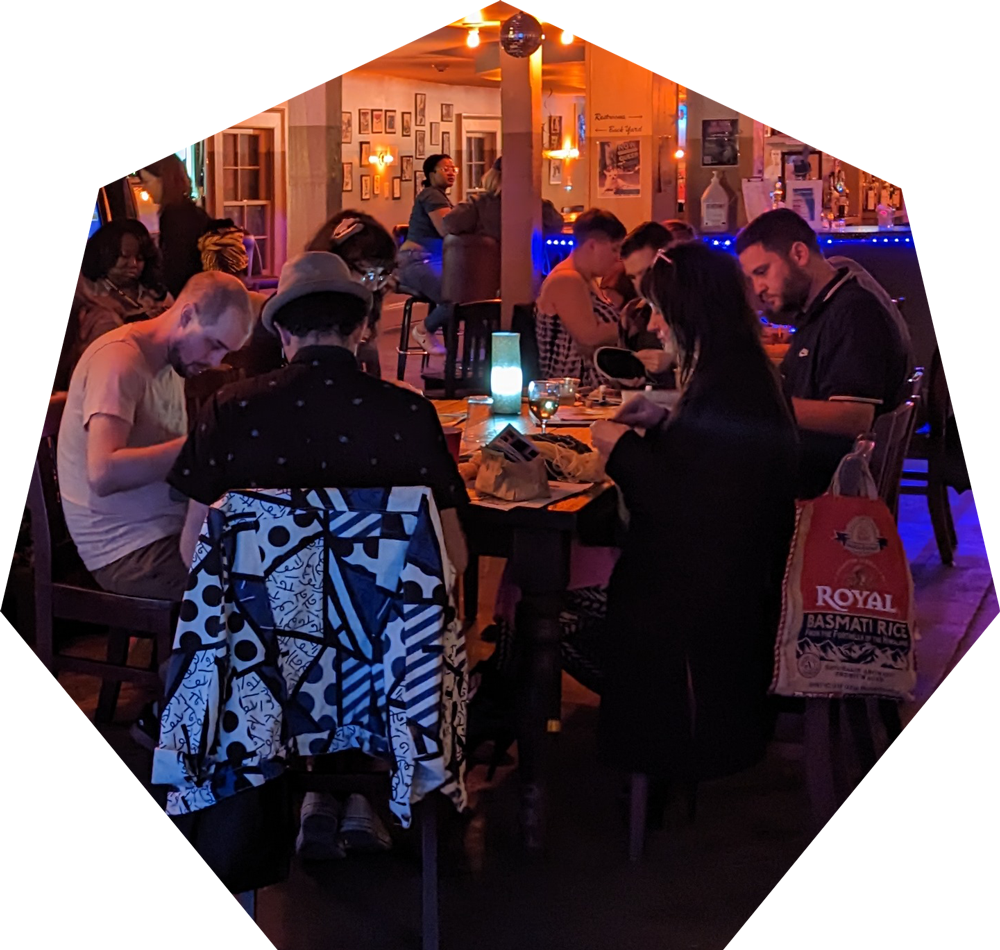 AT KOLAJ FEST
Collage Making
Collage making takes place each day of Kolaj Fest New Orleans. In addition to free time to make collage, the space will host artists leading demonstrations and workshops. The space has scissors, X-acto knives, glue, and a collection of papers and materials.
SUNDAY
Great Collage Swap 
On Sunday, we will gather one final time to say our goodbyes and to conduct The Great Collage Swap. To participate, bring a collage to exchange to the Info Table before 10AM Sunday. In return, you will be given a number. All of the collages will be displayed. During the program, a collage will be selected and matched with a number and the holder of that number will receive the collage. As the collages are matched, each artist has a chance to share their story.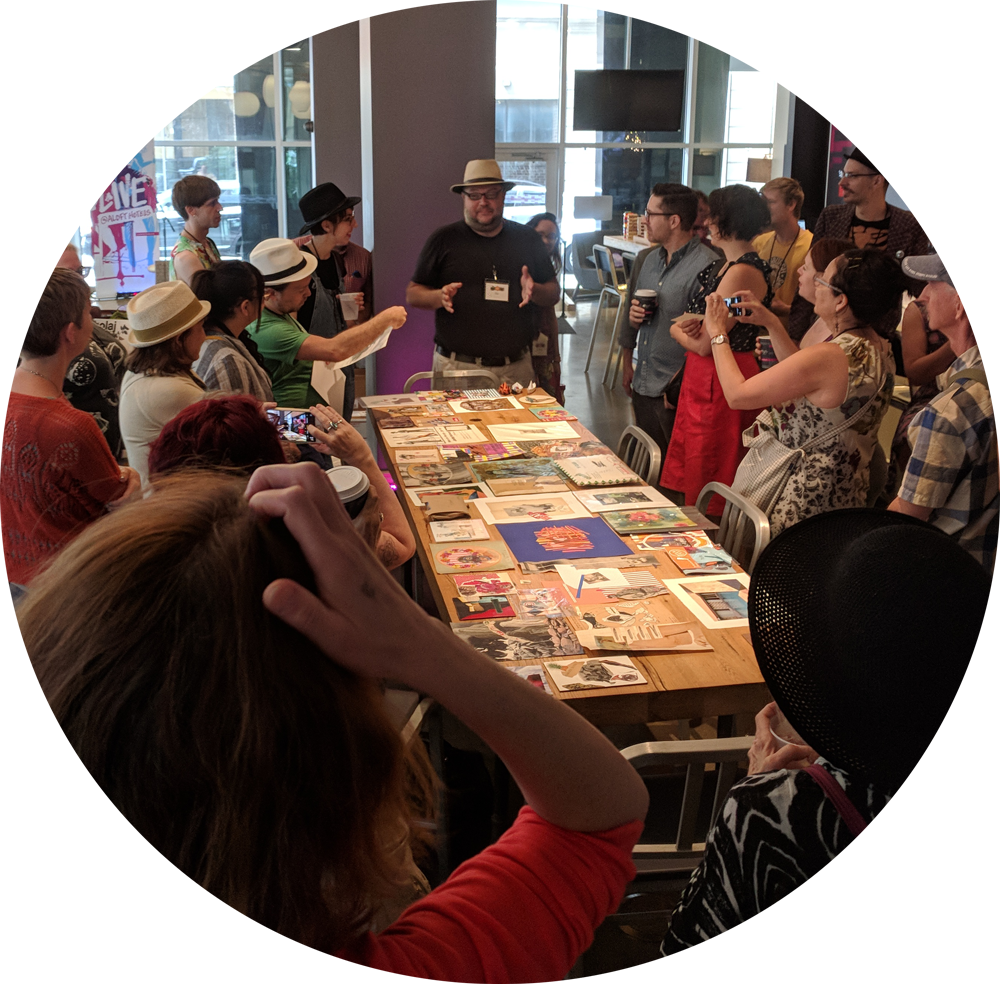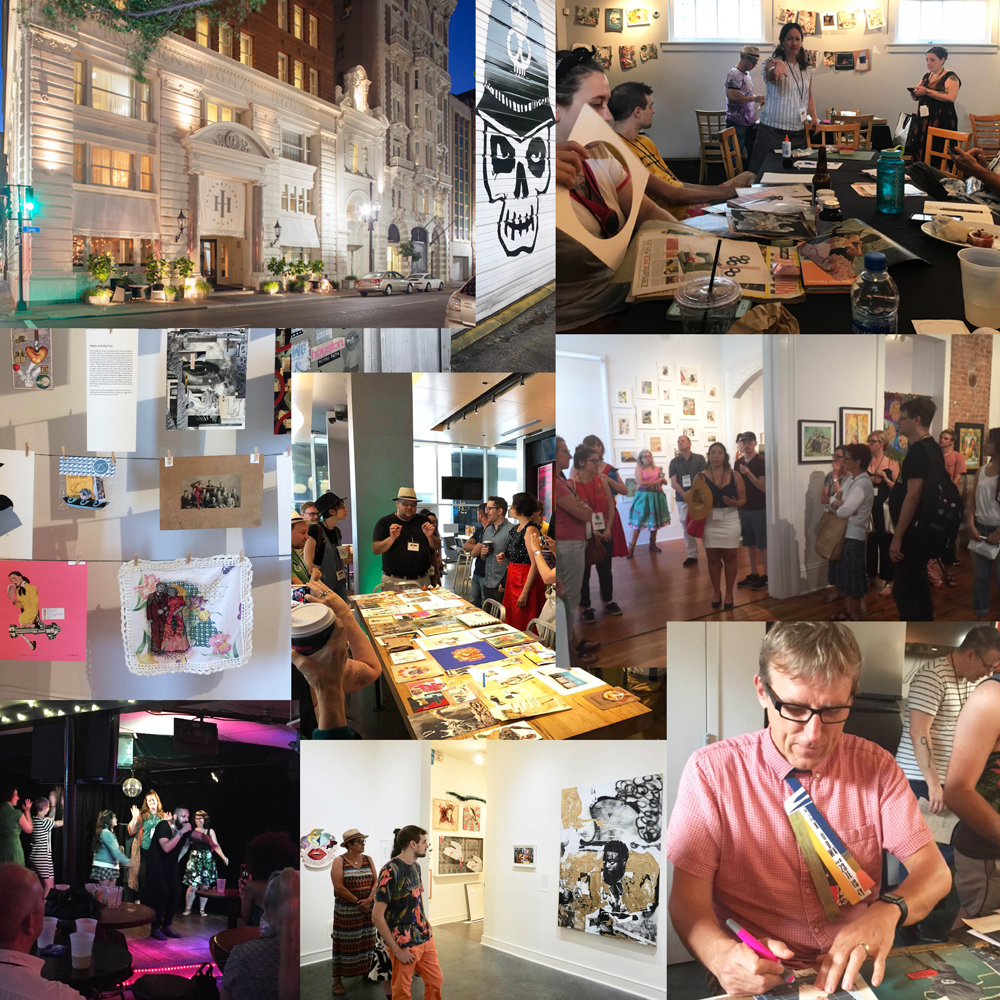 Kolaj Fest New Orleans 2023 Program Book is a document of all things related to Kolaj Fest last year. In these pages, you will find a schedule and descriptions of sessions, bios and website information for artists and presenters, descriptions of evening events and special workshops. Check it out to see the sort of events that take place.