At Kolaj Institute, we see The Book as a place to experience collage and therefore maintain an active publishing program. Kolaj Institute works with Kasini House to publish books that document and diffuse ideas that deepen our understanding of collage as a medium, a genre, a community, and a 21st century movement. Books are often the outcome of residencies, fellowships, and other projects.
PoetryXCollage Volume Five
PoetryXCollage is a printed journal of artwork and writing which operates at the intersection of poetry and collage. We are interested in found poetry, blackout poetry, collage poems, haikus, centos, response collages, response poems, word scrambles, concrete poetry, scatter collage poems, and other poems and artwork that inhabit this world. Each issue presents six movements of work by artists and curators. Page spreads are meant to be free zones of thinking where the contributor has chosen all elements of the layout: font, image place, composition, etc.
PoetryXCollage Volume Five features work by Johnette Downing (New Orleans, LA, USA), Stacy DeBritz (Schenectady, NY, USA), maryhope|whitehead|lee (Phoenix, AZ, USA), Aimee-Beth Martens (Saskatoon, Saskatchewan, Canada), Kelly McGovern (Philadelphia, PA, USA), and Gavin W Sewell (New York, NY, USA).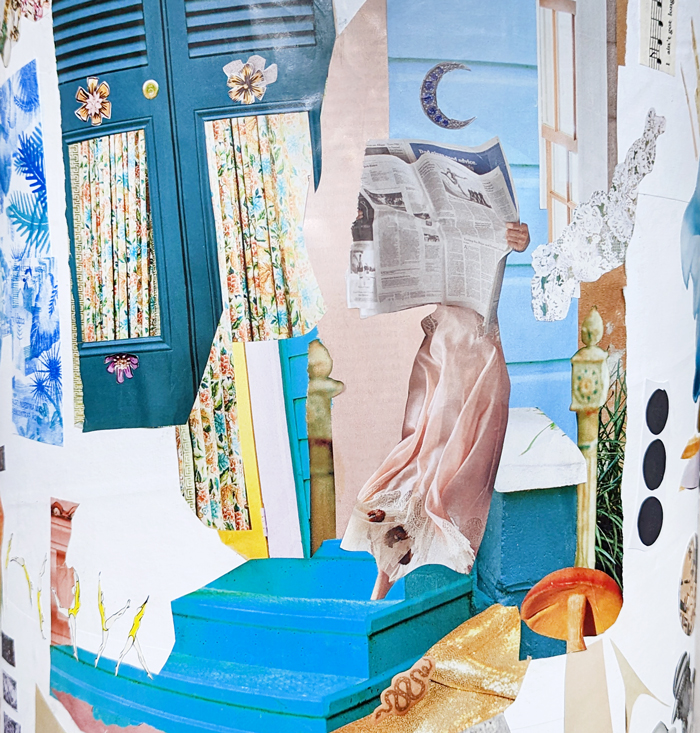 FORTHCOMING BOOK
New Orleans In Collage
How do artists see place and reflect that lens in their work? The book explores the complex histories that make New Orleans an exceptionally fertile place for artists and its unresolved conflicts and impending threats makes such work one of urgency. Building on labs that took place in 2022, Kolaj Institute will host New Orleans Collage Artist Lab: City Archive in 2023, a five-day intensive of workshops, discussions, and collage making designed to foster the integration of history and place into a collage artist's practice. Image by Patricia Doucet.