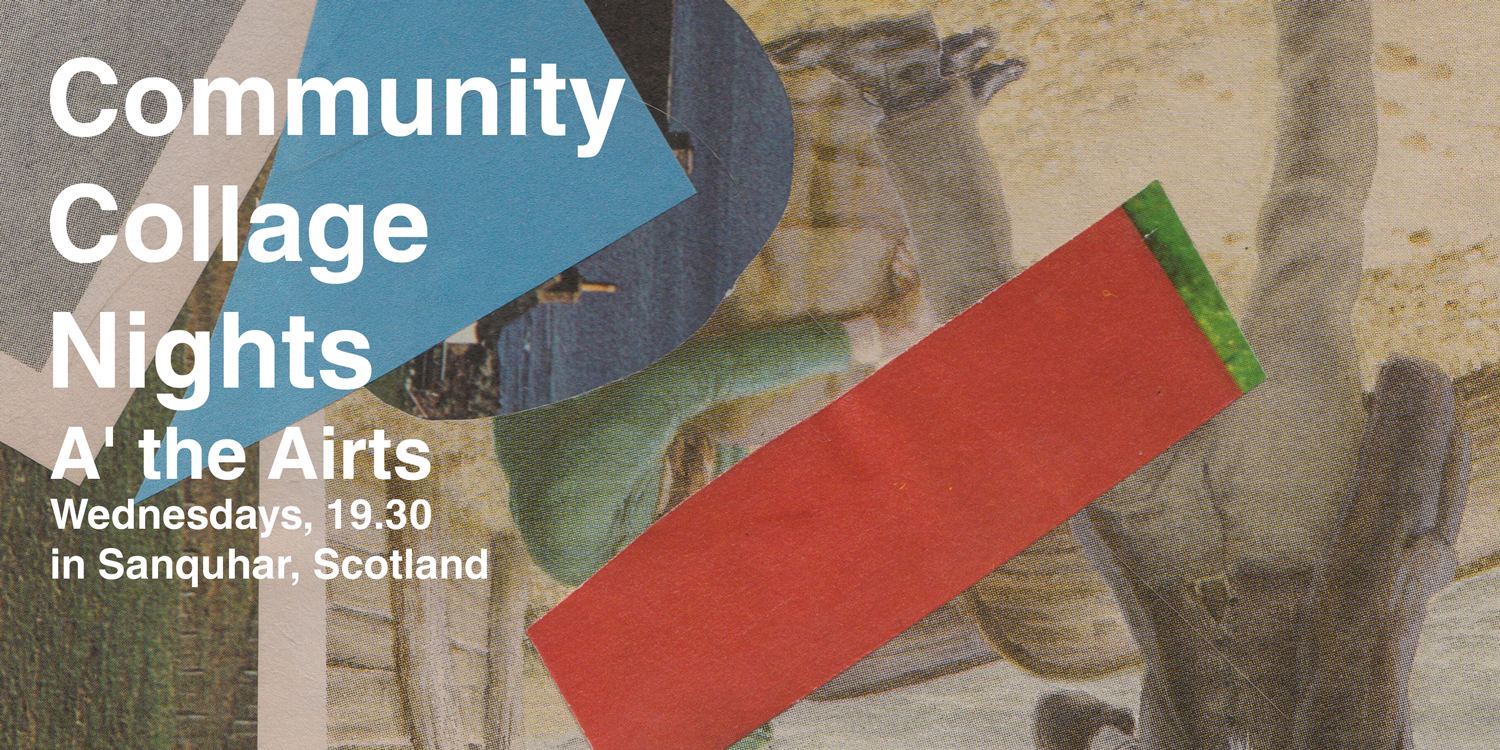 EVENT
Community Collage Nights at A' the Airts in Sanquhar, Scotland, Wednesdays in September
Learn More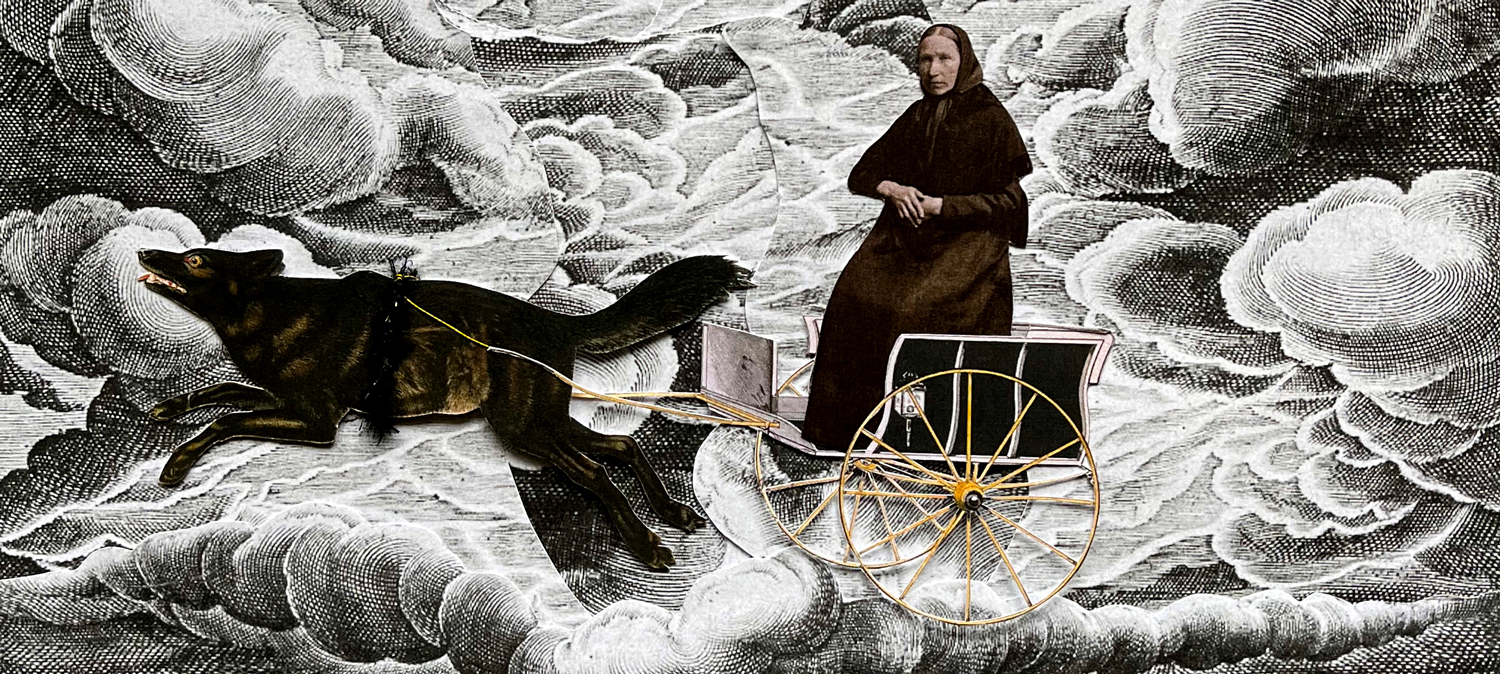 EXHIBITION
Word of Mouth: Folklore, Collage, & Community at A' the Airts in Sanquhar, Scotland, United Kingdom, 6-30 September 2023
In response to the "Mythical Landscape" exhibition, a group of artists made artwork about folklore that was important to them. This work is on view at A' the Airts in Sanquhar during the month of September 2023. Curator Ric Kasini Kadour said, "In sharing this artwork, our hope is that viewers will develop a sense of how folklore moves through the world and the role it plays in building and maintaining communities. While the art on view is not about Sanquhar, our hope is that by exhibiting the artwork in Sanquhar we can put the rich folklore of Sanquhar in conversation with folklore from around the world."
Learn More about Exhibition
Learn More about Folklore Project

Collage Magic Artist Residency
First Deadline to Apply: Sunday, 27 August 2023
Final Deadline to Apply: Sunday, 24 September 2023
Collage Magic Artist Residency is a five-day, in-person collage artist residency in New Orleans in which artists will explore contemporary art that references magic, altar making, and ritual practice and take a walking tour of New Orleans and explore the city as an archive of magic.
First Session: Wednesday, 25 October to Sunday, 29 October 2023
Second Session: Wednesday, 6 December to Sunday, 10 December 2023

Collage Publishing Workshop
Deadline to Apply: Sunday, 15 October 2023
In this five-week workshop, artists will turn a body of work or a project into a zine, art catalog, monograph, or book. We will explore different models of publishing and types of book projects. We will walk through the steps and support one another as we create publishing projects and prepare to put them out into the world. Artists will either develop a publishing project during the workshop or create a plan for one.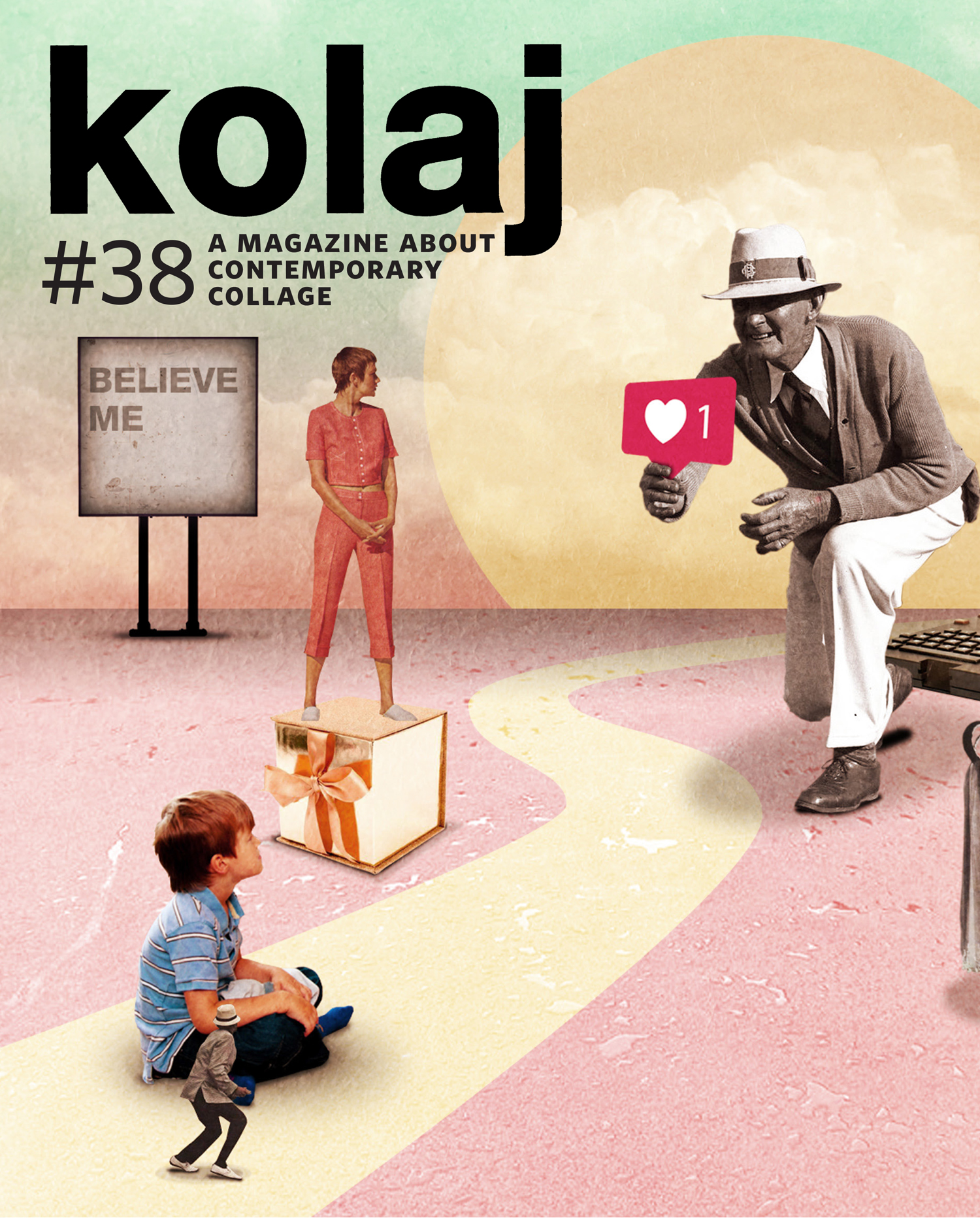 Kolaj 38
Current Issue of the Print Magazine
On attrape bien les followers avec des likes (We Are Good at Catching Followers with Likes) by the artist SLip, the cover of Kolaj 38, is a commentary on how social media fights for our attention, devotion, and patronage. In Kolaj 38, we ask what happens when a work of art becomes detached from the artist, orphaned, unidentified. We learn about Alicia Saadi's captivating billboard installation in New Jersey, showcasing her experience with Kolaj Institute's Collage as Street Art Residency. An interview with Lance Letscher offers a candid view on what defines a successful artwork, while Kim Triedman ties poetry and collage in her artful journey. Anna Rémuzon explores the subtle, vibrant meeting of Expressionism, Surrealism & Pop Culture in the artwork of Czech artist Tomáš Jetela. Steven Specht raises questions about AI and art, emphasizing the authentic experience of the collage artist. Through artist portfolios, we journey to France, the United States, and Germany. We hope each issue of Kolaj Magazine takes you someplace you've never been.
Learn More
NEW PUBLICATION
Collage Saves The World
We are living in an explosively political time, faced with crises that are not only deepening individually, but becoming increasingly intersectional in relation to each other. There is a strong history of collage art being used to tackle complex socio-political issues during some of the most difficult eras, but how can it meet this moment and spark meaningful dialogues about our varied, contemporary issues? In November 2022, G. E. Vogt led twelve artists in a month-long virtual residency with the goal of creating work that examines complex socio-political issues that contemporary society is contending with, in order to spark meaningful dialogue and inspire deeper engagement. Each artist chose specific issues to explore through the medium of collage. Their artwork allows viewers an opportunity to reflect on various forms of racism, colorism, ableism, and sexism; the war in Ukraine; climate change and the importance of permaculture; beauty standards and women's autonomy. Their work makes its way into the world in this book and as a traveling exhibition.
Learn More
Get a Copy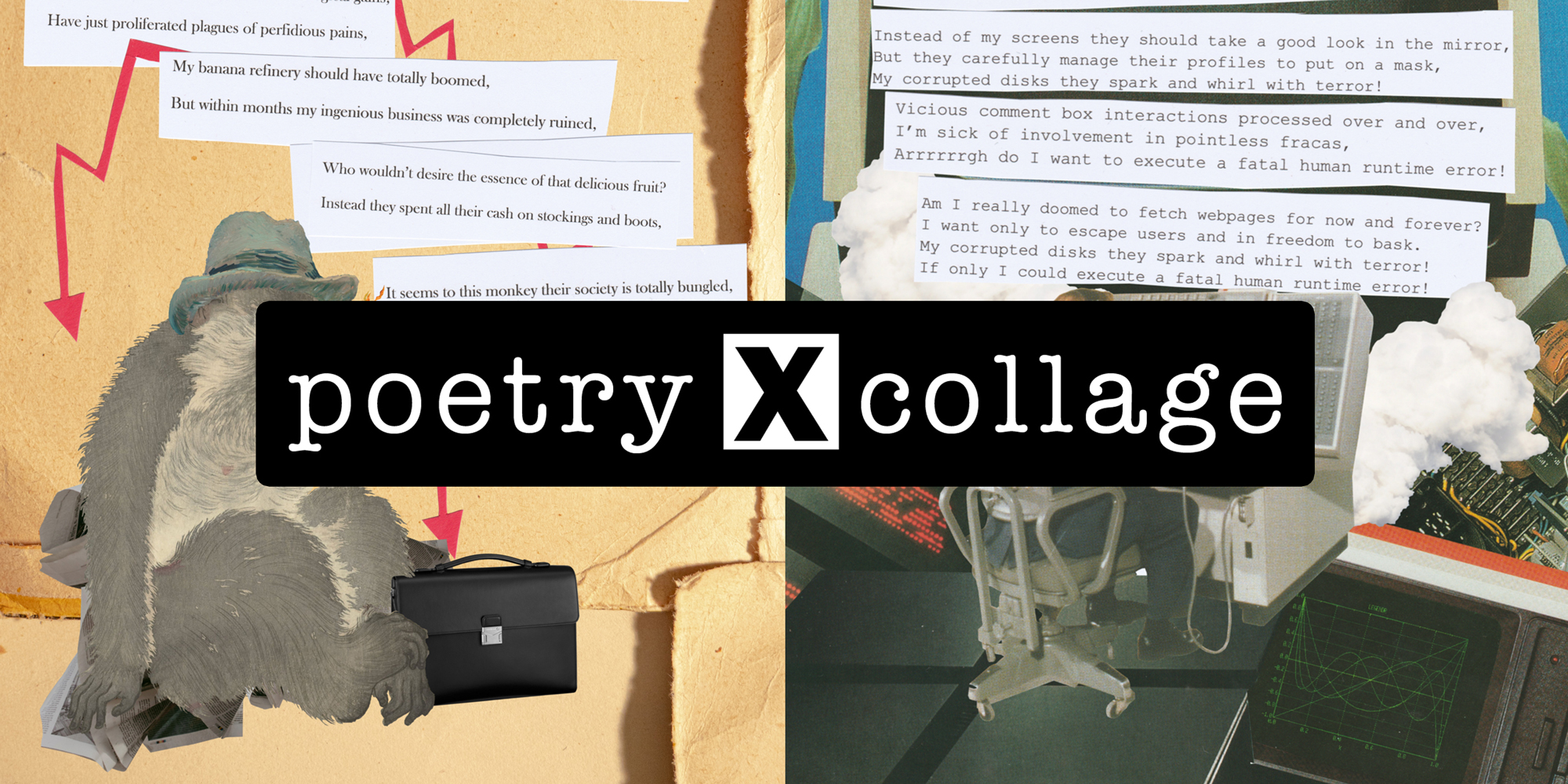 NEW JOURNAL
PoetryXCollage
PoetryXCollage is a printed journal of artwork and writing which operates at the intersection of poetry and collage. We are interested in found poetry, blackout poetry, collage poems, haikus, centos, response collages, response poems, word scrambles, concrete poetry, scatter collage poems, and other poems and artwork that inhabit this world.
Learn More
Get Volume Four Now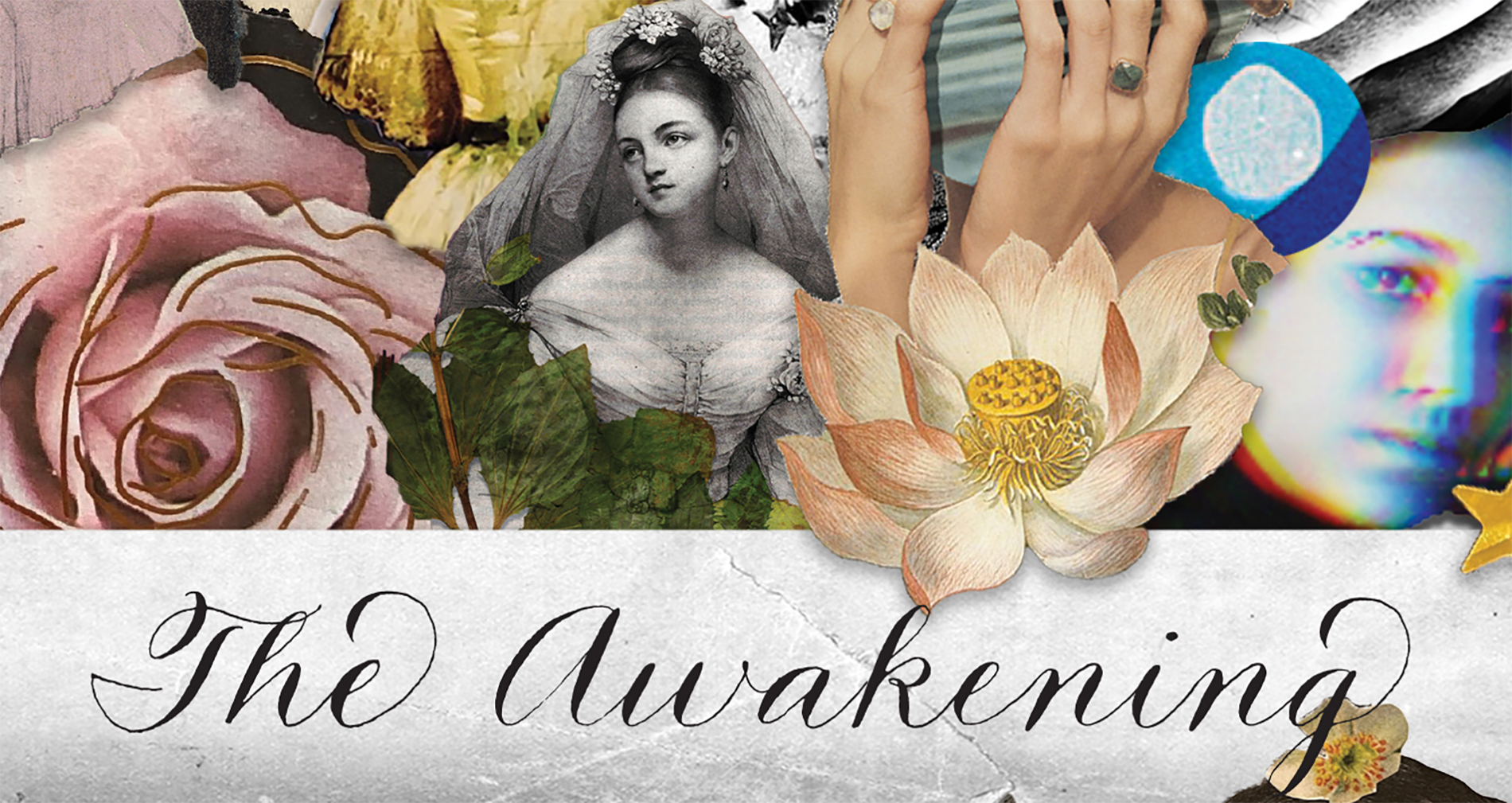 NEW PUBLICATION
The Awakening
by Kate Chopin, illustrated & interpreted by contemporary collage artists
The Awakening focuses on Edna Pontellier, an upper-class New Orleans woman, torn between expectations and desires. In the beginning of the novel Edna appears to live in a semi-conscious state, trapped in the mundane aspects of her life. As the story evolves, she encounters new people and experiences that create an awakening shift within her. Edna begins to view her world differently, and through this lens new relationships emerge while others become strained. In the end, Edna realizes that even if she has her own desires she is still trapped by her societal role.
Learn More
Get a Copy
The mission of Kolaj Institute is to support artists, curators, and writers who seek to study, document, & disseminate ideas that deepen our understanding of collage as a medium, a genre, a community, and a 21st century movement. We operate a number of initiatives meant to bring together community, investigate critical issues, and raise collage's standing in the art world.
Kolaj Institute works in partnership with Kolaj Magazine to communicate, market, promote, publish, and distribute the work of the Institute. Kolaj Institute is the recipient of Kolaj Magazine's archives and collections.
Kolaj Institute is decentralized and works in partnership with a number of art venues and other organizations around the world to manifest its programs.
Publications from Kolaj Institute
Consider this: The book, not the gallery, may be the best place to experience collage. This sentiment has broad implications for how collage artists work and how their work is received by an art world whose orientation is decidedly fixed on the gallery wall. Can the book provide the functions that the exhibition has historically provided to artists? Unlike an exhibition where original work is on display, a book depends on reproduction for its distribution. Will the public accept a book as an experience of artwork or even as an object of art in and of itself? And if we accept the book as being on par with the exhibition, how does that affect how we think of the history of art publishing that has come before?
Kolaj Institute works with Kasini House to publish books that document and diffuse ideas that deepen our understanding of collage as a medium, a genre, a community, and a 21st century movement. Books are often the outcome of residencies, fellowships, and other projects.