Kolaj LIVE Online is a series of virtual programs in the form of forums, panels, workshops, artist talks, studio visits, and other activities that allow people to come together, learn and talk about collage, and connect in real time to the collage community. Our goal is to bring the community together in a spirit of mutual support and fellowship.
Kolaj LIVE Online manifests Kolaj Magazine and Kolaj Institute by bringing together artists, curators, and writers to share ideas that deepen our understanding of collage as a medium, a genre, a community, and a 21st century movement.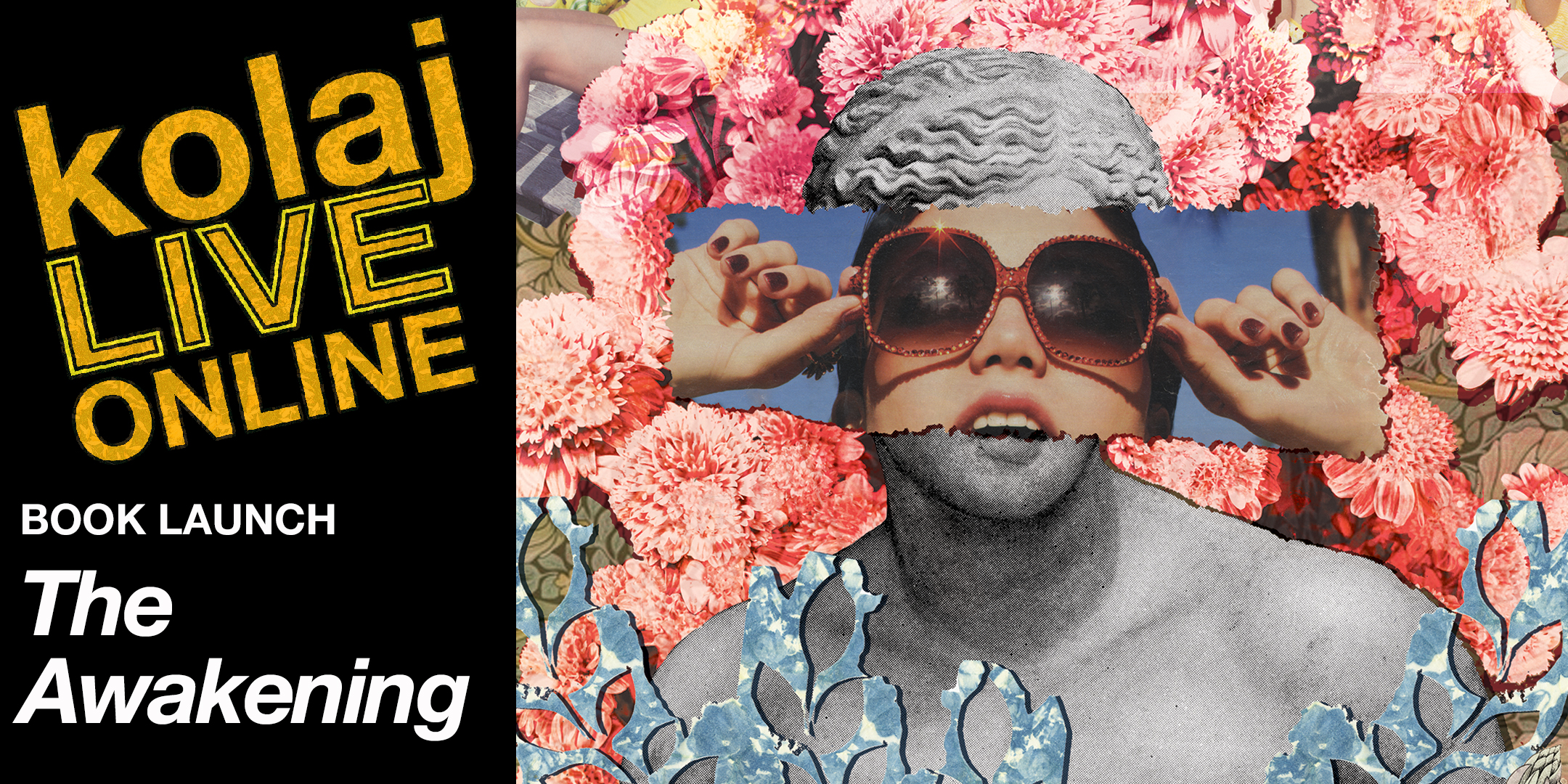 BOOK LAUNCH
The Awakening
Sunday, July 16 2023. At this online event, we heard from the project's creative directors Nancy Bernardo and Christopher Kurts, and five of the contributing collage artists–Dimas Melfi (Catamarca, Argentina), Mercedes Cueto (Sudbury, Ontario, Canada), Caroline Rochon-Gruselle (Montreal, Quebec, Canada), José Sampaio (São Paulo, Brazil), and Lesley Finn (Guilford, Connecticut, USA)–about their experience illustrating Kate Chopin's 1899 novel.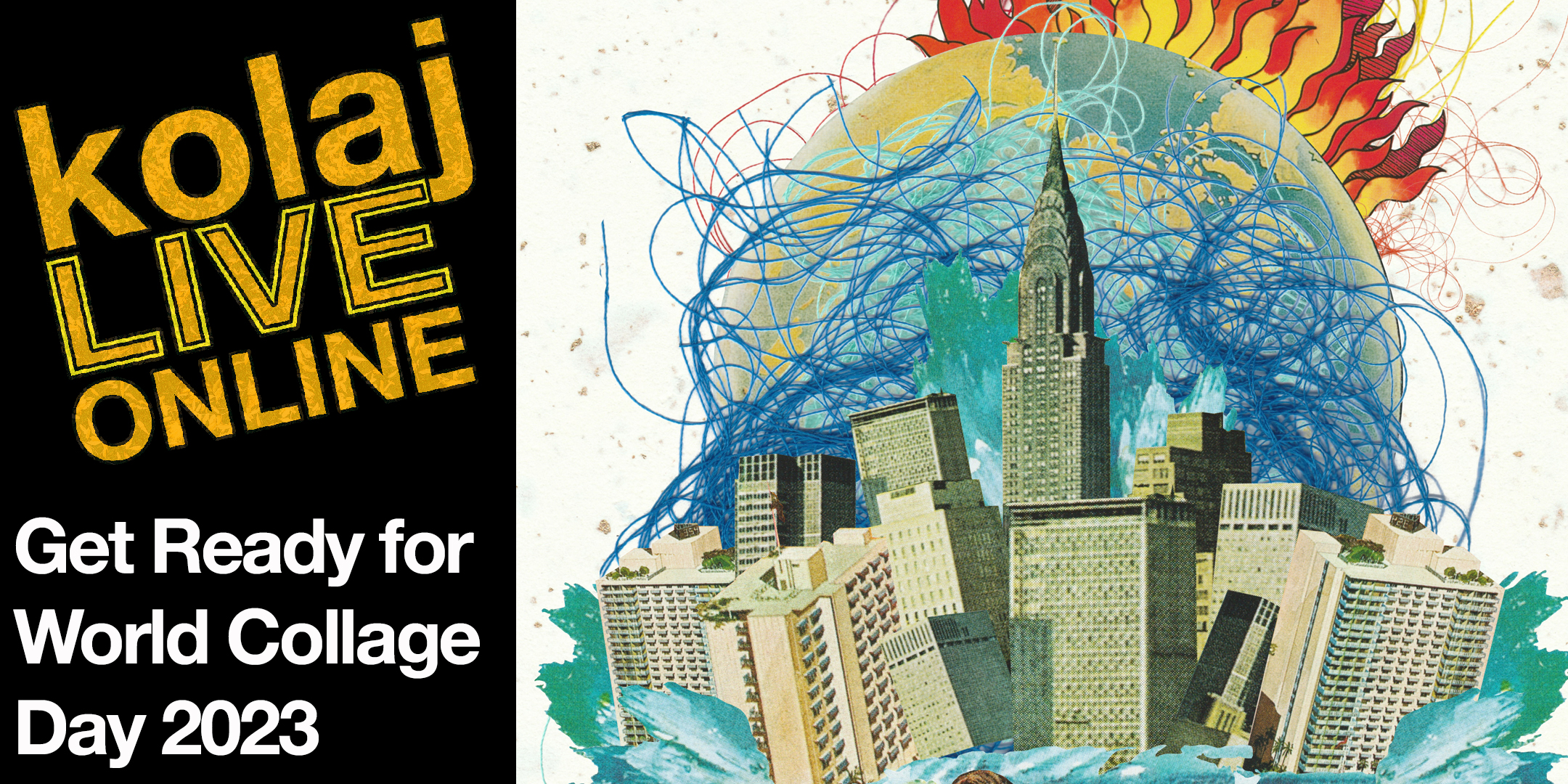 COLLAGE EVENT
Get Read for World Collage Day 2023
Sunday, February 26th, 2023. In this online event, Ric Kasini Kadour shared the impetus for the day's creation and its philosophy. We introduced the 2023 World Collage Day Poster Artist Anthony D Kelly from Castlebar, County Mayo, Ireland who spoke about the concept behind the poster and the series of postcards he designed for the day. Kelly and Kadour were also joined by others planning World Collage Day events and activities in a call-in show style format.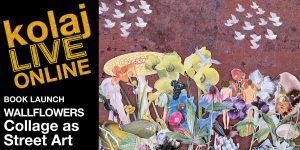 BOOK LAUNCH
Sunday, January 22nd, 2023. A new book from Kolaj Institute explores the intersection of collage and street art and recalls the formation of the Kolaj Street Krewe from its creation at Kolaj Fest New Orleans to a guerilla art project during the COVID-19 pandemic to an artist residency for Street Artists. The book contains examples of collage as street art by twenty-four artists from eight countries.

COLLAGE FORUM
Kolaj Institute Open House
Saturday, 17 December 2022. In 2019, We created Kolaj Institute to support artists, curators, and writers who seek to study, document, and disseminate ideas that deepen our understanding of collage as a medium, a genre, a community, and a 21st century movement. At this Kolaj Institute Open House, we heard from artists engaged with past and upcoming projects. We previewed exhibitions, forthcoming books, and spoke about how you can get involved.

FORUM SERIES
Artists in the Archives Program Series
In Fall 2022 through Spring 2023, Kolaj Institute presented a series of six Kolaj LIVE Online events in partnership with the Henry Sheldon Museum's Stewart-Swift Research Center as part of the exhibition, "Artists in the Archives". On the occasion of the 50th anniversary of the Stewart-Swift Research Center, the Henry Sheldon Museum of Vermont History invited an international network of collage artists to engage with historic material in the archive and to create a folio of collage prints that reflect on the idea of community in a 21st century world.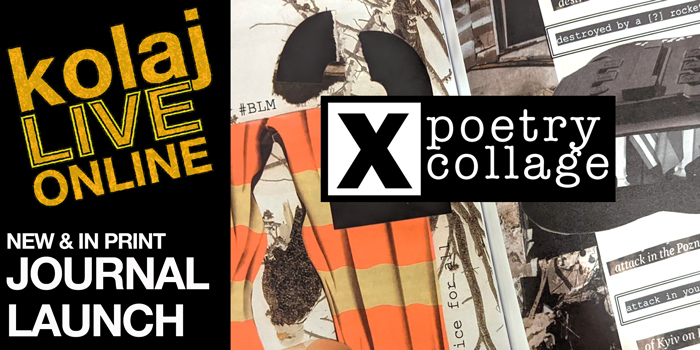 PRINT JOURNAL LAUNCH 
Thursday, August 11th, 2022. Kolaj Institute and several of the contributing artists gathered for a discussion about the Poetry & Collage Residency, their artwork, and the intersection of collage and poetry. Artists shareed images of their work and read their poetry.

BOOK & EXHIBITION LAUNCH
Sunday, July 31st, 2022. G.E Vogt and four of the exhibiting artists discussed their experience of the Politics in Collage residency, their artwork, and the need for more complex works engaged in political dialogue.

BOOK LAUNCH & FORUM
Oh, Money! Money! Book Launch
Sunday, August 22nd 2021. Several artists who took part in the Money Money Collage Residency talked about their experiences collaboratively illustrating a hundred year old book within the span of a month.
COLLAGE TOPIC
The Parent Trap: How to Be an Artist with Kids
Sunday, June 27th 2021. Danielle Krysa joined four additional panelists and spoke about how they negotiate parenthood, specifically the challenges of being an artist and raising children.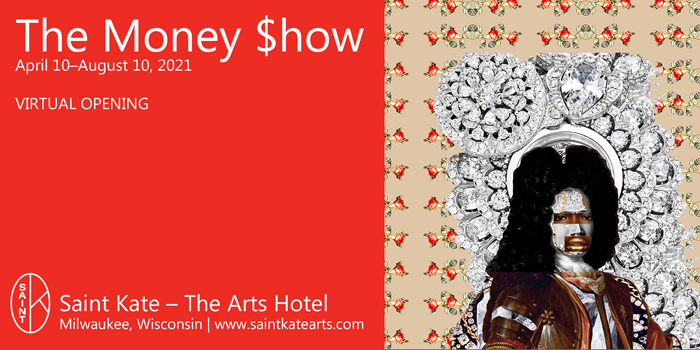 VIRTUAL OPENING
The Money $how Curator's Talk
April 17, 2021. Co-curators of "The Money $how", Frank Juarez, the publisher of Artdose Magazine, and Ric Kasini Kadour, the editor of Kolaj Magazine hosted an opening talk.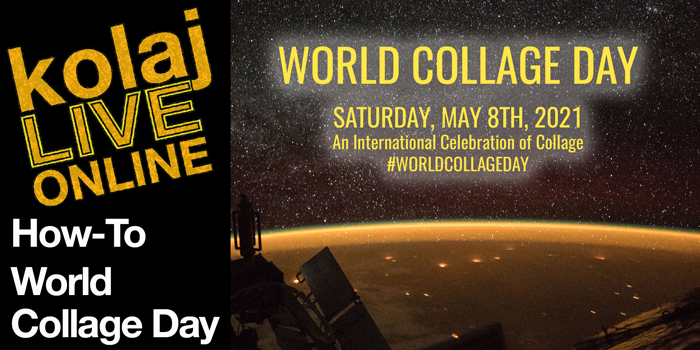 COLLAGE EVENT
Saturday, February 20, 2021. Ric Kasini Kadour shared the impetus for the day's creation and it's philosophy. He was joined by artists who shared their experience of past World Collage Day events.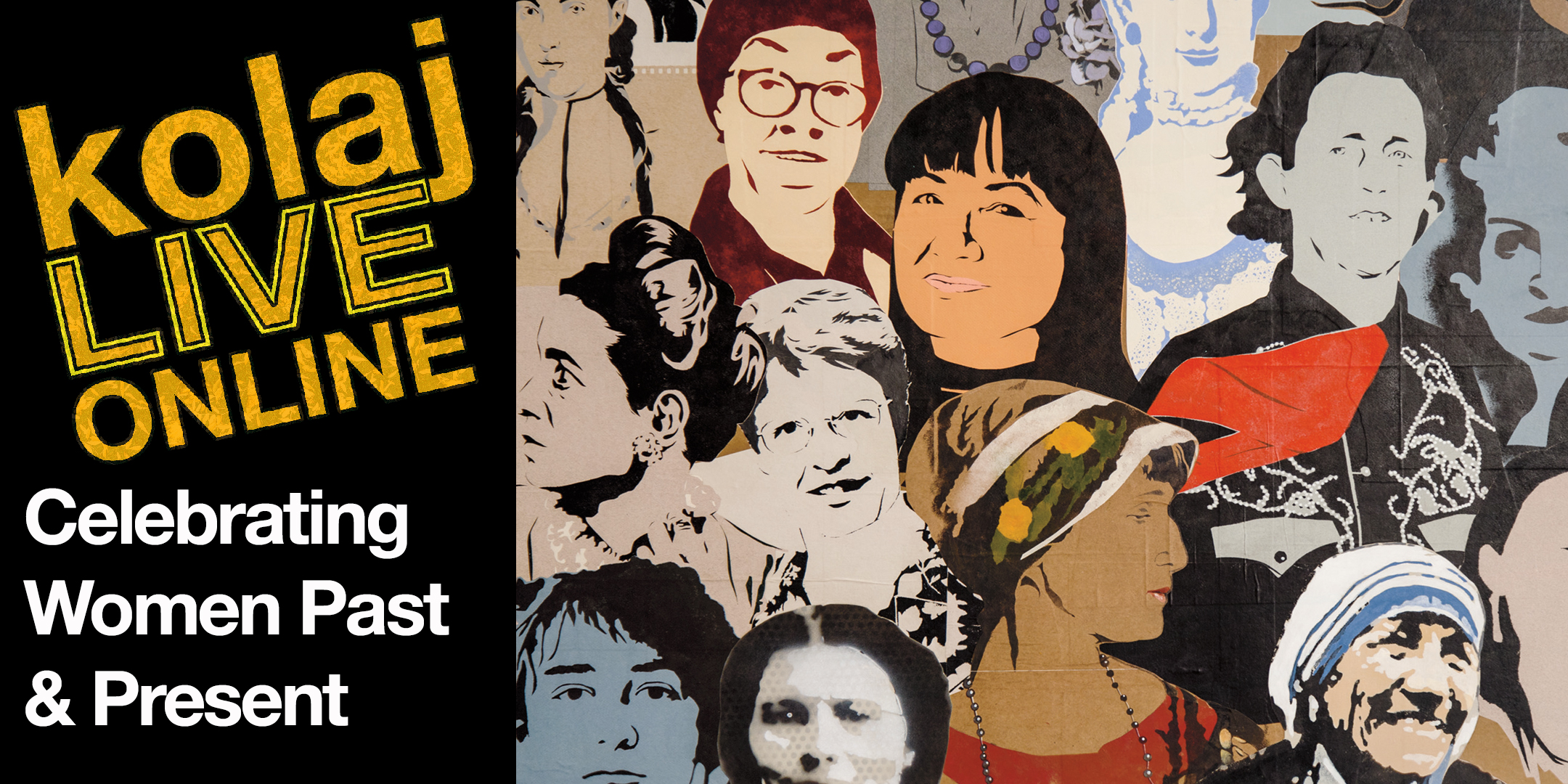 COLLAGE ARTISTS
Celebrating Women Past & Present: The Collage Art of Jann Haworth & Liberty Blake
Saturday, January 16th, 2020. Ric Kasini Kadour interviewed Jann Haworth & Liberty Blake about The Work in Progress mural; collage's role in the British Pop Art scene of the 1960s; making art as a mother-daughter team; and how art can teach us and help us remember our history.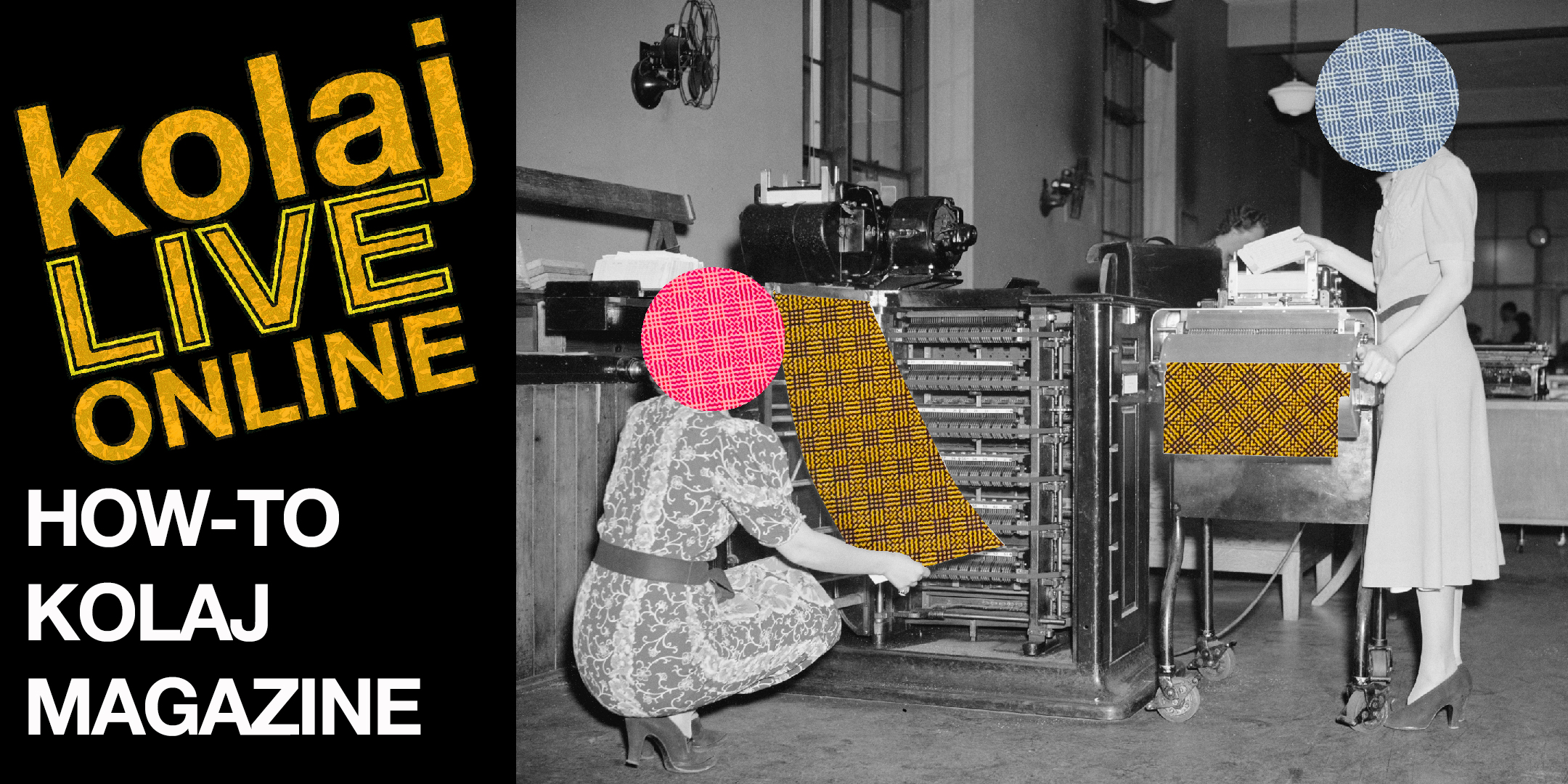 COLLAGE FORUM
How-To Kolaj
Sunday, December 6, 2020. Ric Kasini Kadour walked attendees through the various ways in which one can both submit to the magazine and be featured. Kadour offered a brief presentation, after which he took questions about the magazine, upcoming events, and various initiatives and projects.

COLLAGE FORUM
Collage Communities Forum
Saturday, November 21, 2020. Leaders of collage communities in North America, Europe, and Latin America shared their experience bringing artists and collage enthusiasts together.

COLLAGE WORKSHOP
Navigating Digital and Analog Worlds: Collage and Printmaking
Wednesday, September 30, 2020. David Wischer and Lisa Wicka discussed how printmakers work with the repeatable image and how printmaking and collage are natural partners.

COLLAGE FORUM
Women in Collage: An International Round Table of Artists
Thursday, September 24, 2020. Dafna Steinberg, Lory Ivey Alexander, Ainize Txopitea, Lisa Wicka, and Marie-Pier Lopes discussed the role of women in collage as artists and subjects

COLLAGE WORKSHOP
Cat & Paste Workshop: Cats, Art History, & Collage
Caturday, September 12, 2020. Cat & Paste Club's Dafna Steinberg exploreed cats in art history and showed contemporary cat collage.

COLLAGE CONVERSATION
The Future of Collage
Saturday, September 5th, 2020.The Weird Show's Max-o-matic and Kolaj Magazine Editor Ric Kasini Kadour discussed what makes and defines collage and how technology and social media are used to organize community and diffuse artwork.

COLLAGE FORUM
Collage Beyond the Art Form: Collage as Therapy, Education, & Community Engagement
Wednesday, September 2nd, 2020. Hope Amico, Anila Babla, Anna Innocenti, Stacie Speer Scott, Julia Volonts, Holly Wherry, and Christine Sloan Stoddard discussed collage as therapy, education, community engagement, and how the medium can serve the needs of the community.

COLLAGE TELEVISION
Collage Cast: What Would A Television Show about Collagists Look Like
Thursday, August 27th, 2020. Artist Daniel Lynds presented the pilot of a collage-focused show he produced. In the twenty-minute episode, host Michele Fanfair-Steury interviewed collage artist Dafna Steinberg about her artwork and life as an artist.

EXHIBITION
Radical Reimaginings
at 516 ARTS
Saturday, August 22nd, 2020.The artists at the virtual opening and book launch of Radical Reimaginings spoke about what stories they are re-imagining.

COLLAGE STUDIES
Latin American Collage
Saturday, August 15th, 2020. From Lima, Peru, Kolaj Institute Fellow Enrique "Kike" Congrains spoke about collage in Latin America with 516 ARTS Director Suzanne Sbarge.

EXHIBITION
Was, Is, An Eclipse at Thompson Gallery
Tuesday, August 11th, 2020.Curator Todd Bartel gave a virtual tour Kasem Kydd's "Was, Is, An Eclipse" exhibition of assemblage, collage, installation and video at Thompson Gallery and then, with the artist, discussed the exhibit.

COLLAGE PERFORMANCE
Chaos To Order: Collaborative Collage in Performance
Saturday, August 8th, 2020. The Mystic Krewe of Scissors & Glue live collaged a 9-foot tall obelisk in the atrium of the Ogden Museum of Southern Art in New Orleans.

GALLERY ISSUES
Meet the Gallerist: Christy S. Wood at LeMieux Galleries, New Orleans
Tuesday, August 4th, 2020. LeMieux Galleries co-owner Christy S. Wood gave a virtual tour of the "Family" exhibition and spoke about her work as a gallerist.

STREET COLLAGE
Public Space, Street Art, & Collage: Kolaj Street Krewe
Thursday, July 30th, 2020. What is the role of collage in street art? Rosie Schinners and FANCLUB13 presented a history and contemporary survey and invite others to consider the art practice.

COLLAGE ARTISTS
Plagues, Monuments & Going Big: In-Camera Collage in a Hayfield Gallery
Saturday, July 25th, 2020. Artists EveNSteve offered a virtual tour of their outdoor art gallery and talk about their recent work, in-camera collage and their practice.

COLLAGE COMMUNITY
Kolaj Fest New Orleans: Tales from the Bayou
Monday, July 20th, 2020. At this virtual reunion of Kolaj Fest New Orleans, Rosie Schinners, Danielle Cole, Sarah Cowling, Ben DiNino, Kevin Sampsell, Paloma Trecka, Christopher Kurts, and Ric Kasini Kadour told stories about annual event that was postponed due to the COVID-19 pandemic.

EXHIBITION OPENING
Kolaj LIVE Online & Fundraising Exhibition Launch
Sunday, July 19th, 2020. Kolaj Magazine Editor Ric Kasini Kadour spoke about the series and artists in the Fundraising Exhibition to Support Kolaj Institute spoke about their artwork.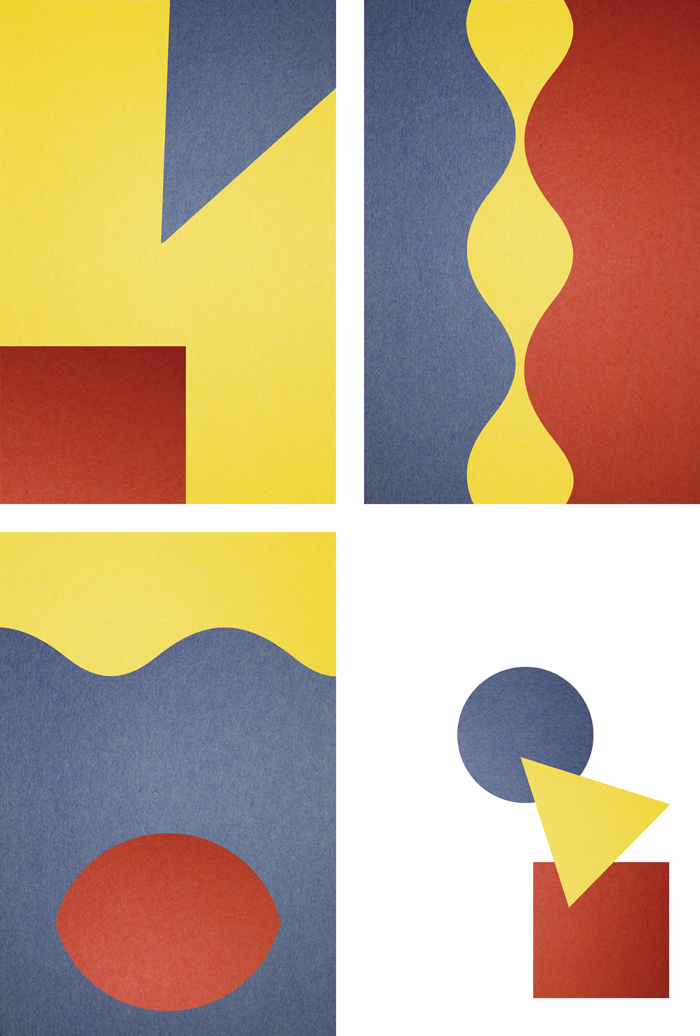 ACTIVITY
Inspired by a tradition at festivals in Catalonia, Spain, Collage Castell is an experiment in Human Tower building. The project was a collaborative collage making project and exchange. Enclosed within the Kolaj LIVE Online Program Book were four Bauhaus-inspired starters on which we invited artists to start a collage and then send to another artist to complete. Completed collages emailed to us were posted in an online exhibition.

EXHIBITION
Online, July 15th, 2020 to September 30th, 2020. As part of Kolaj LIVE Online, Kolaj Institute is hosting a Fundraising Exhibition to support the organization's residencies, publications, fellowships, and traveling programs. The artwork on sale benefits both the artist and the organization.
Artists: Meikel Church | Danielle Cole | Vanessa Compton | Enrique "Kike" Congrains | Ben DiNino | David Crunelle | Michael Pajón | Haley Sanborn | Jill Stoll | Athena Petra Tasiopoulos | Bianca Walker | Bredt Bredthauer | Andrea Burgay | Paola de la Calle | Guillaume Chiron | Katie McCann | EveNSteve | Olivia Descampe

PUBLICATION
The Kolaj LIVE Online Program Book is your guide to the event. The 62-page book includes in-depth descriptions of the fourteen Kolaj LIVE Online events along with biographies of the presenters and institutional partners. The book serves as the catalog for the Kolaj Institute Fundraising Exhibition. It also comes with four starter collages to participate in the Collage Castell activity, a cat-themed Cut Out Page for the Cat & Paste Workshop, and a commentary about the creation of the event.

SIGN-UP to receive updates about future Kolaj LIVE Online programs.
Got an idea for a program? Send an EMAIL.
Support Kolaj Institute.
Your donation makes these programs possible. LEARN MORE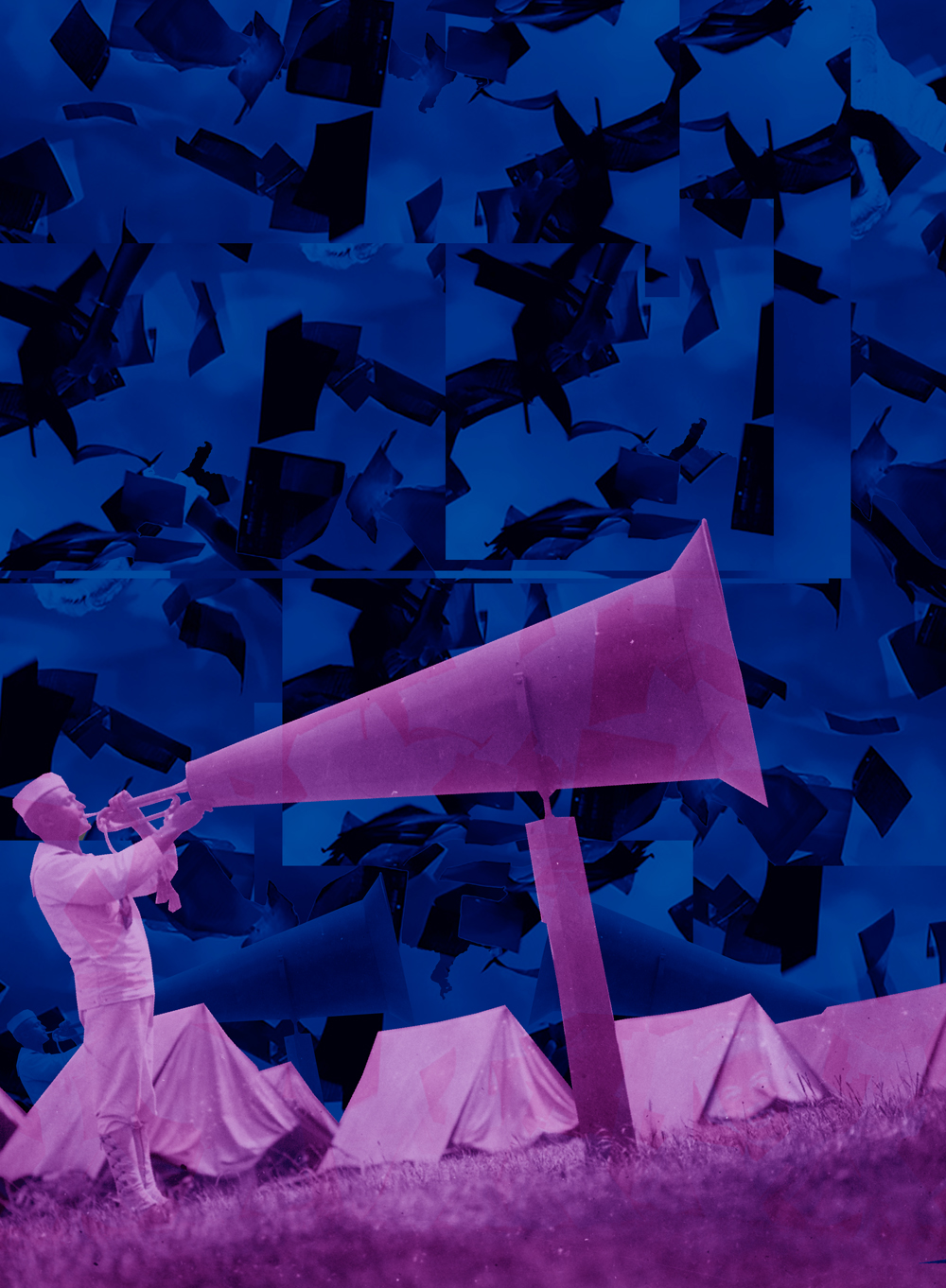 How to Kolaj Live Online
All events are free.
Registration is required.
TO REGISTER
To attend an event, click on the GET TICKETS link for the program. This will take you to Eventbrite where you can register for a ticket. You will be emailed the link to the event one week prior.
SPACE IS LIMITED
The events are limited to 100 participants. Please return your ticket in the event that you cannot attend.
DAY OF THE EVENT
We will open Zoom meetings fifteen minutes early and close thirty minutes after the event to allow for conversation. Log on and enjoy!
SUBSCRIBE TO THE MAGAZINE
Want to know more? Kolaj LIVE Online programs often relate to content in the Kolaj Magazine. Your subscription supports these events and gives you access to more information. Subscribe Today!